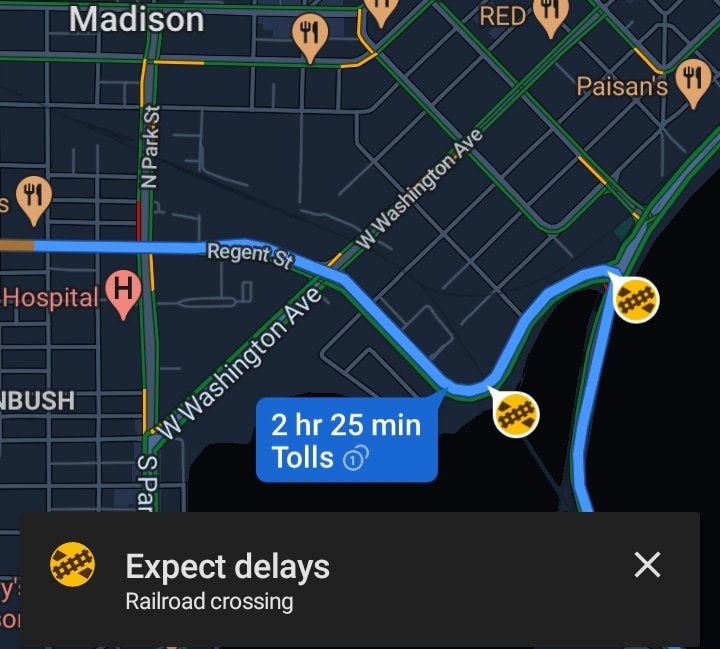 Google acquired the navigation service Waze in 2013 and added convenient features such as speeding control location sharing to Google Maps. It is said that a new warning function has been added that the crossing is approaching through such a way.
Overseas community Reddit has posted a post stating that this feature has been added to Google Maps, and several users are writing replies to it that they have also been added. Here, it is estimated that this function is being deployed for some users.
The posted image is rounded with a track on the navigation screen, and the crossing position is indicated by a yellow icon, and a message indicating that there is a delay in crossing the crossing is displayed at the bottom of the screen. Existing Google Maps does not manage crossing data and does not display such a mark.
It is not clear whether this feature has been added to the official app on both Android and iOS. However, the image is found to be in the United States, and it is not uncommon for Google to start beta testing new features in the United States and gradually expand the target area.
It's also worth noting that Google hasn't officially announced a new feature. When Google adds a new feature to Google Maps, it posts long text on its blog. In other words, it is only in the early stages of the beta test, so there is no denying the possibility that it will not exist later. Related information can be found here.