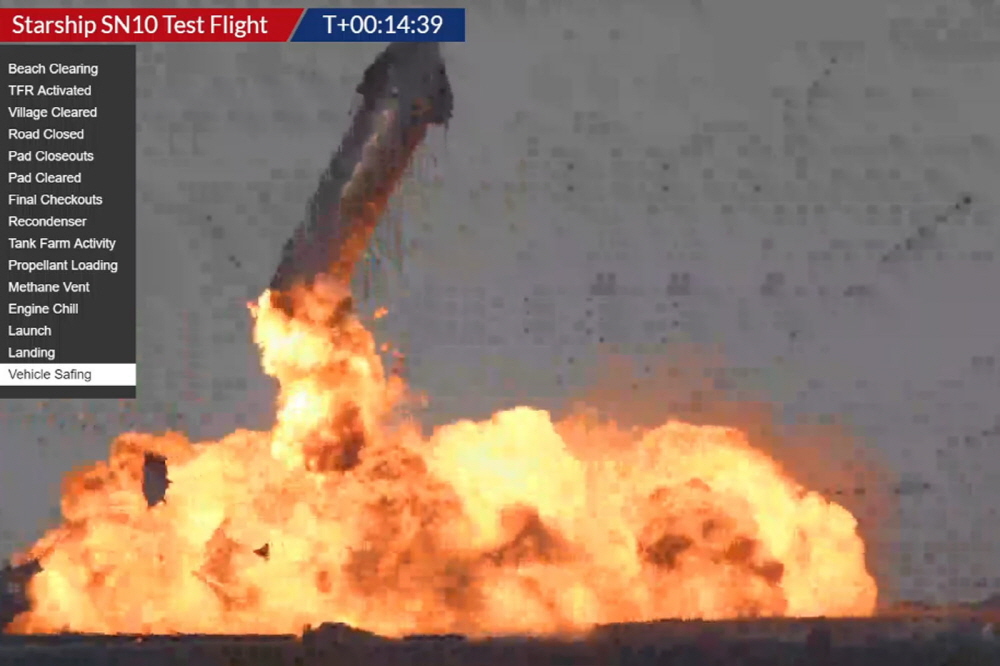 SpaceX conducted the launch and landing tests of the SN10, a prototype of the Starship, a large rocket and spacecraft. This time, the landing was successful, but it was said to have exploded after the official live video ended.
In this SN10 test launch, after raising to an altitude of 10 km, the aircraft was lowered to the side and re-positioned in an upright position at an appropriate altitude, followed by a soft landing on the ground. In the last two tests, it was a flow that explodes while touching the ground without slowing down the descent speed in the final stage. By comparison, the SN10 seemed to slow down enough and landed well. However, if you look closely, you can see the fireworks appearing in a different direction from the original even during the descent. Also, the SN10 is slightly slanted when getting off the ground.
Anyway, it seems to have landed safely, but it is dangerous to have a 15-story cylindrical object standing in an unstable state with fuel left inside. SpaceX is difficult to access as it is, so it is possible to deliberately implement RUD (Rapid Unscheduled Disassembly).
SpaceX said that it has succeeded in its third soft landing on live broadcast, and that the research team is assembling several ballistic aircraft, and the next SN11 is also preparing to go to the launch pad soon. Attention is drawn to whether SpaceX will frame the next stage of the test flight in Starship SN11 or will focus on making a successful landing all the way back. Related information can be found here.