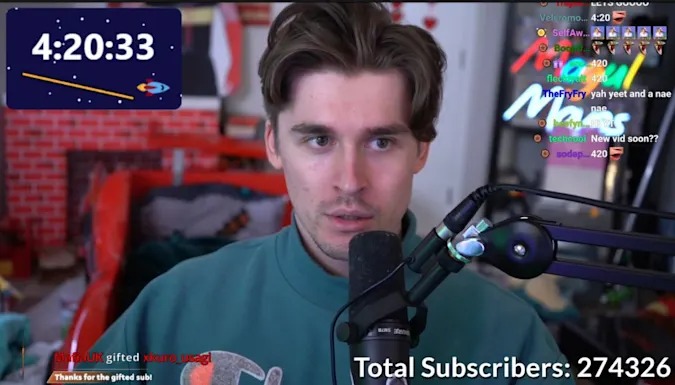 Live broadcast platform Tweety's popular streamer Ludwig Ahgren ran a 31-day continuous stream, surpassing 270,000 paid subscribers, overtaking Tyler Blevins, who set a record of 269,154 three years ago. It was ranked first in the world.
In live broadcasting, a new word called Subathon (Subathon.Subscribe + Makathon compound word) is popular these days. It recruits subscribers during live broadcasting and continues to extend the broadcast time schedule whenever the number of people increases. Agren extended the time by 10 seconds for each additional player.
Eventually, the number of Agren subscribers continued to increase and more than 30 days passed. He said he decided to end the 31st, thinking he could continue to play the subathon endlessly. In addition, it did not just increase the number of registered people, but also donated $5 per head to the American Fleet Association and St. Jude Pediatric Research Hospital depending on the number of registered people during the broadcast.
In achieving Agren's record, Blevins, who was once elected by Microsoft and worked at the now-disappeared mixer, returned to Twitch, sent a message. According to reports, Agren was initially expected to end the broadcast on the 1st or 2nd, but it took a month of time in the end. Related information can be found here.