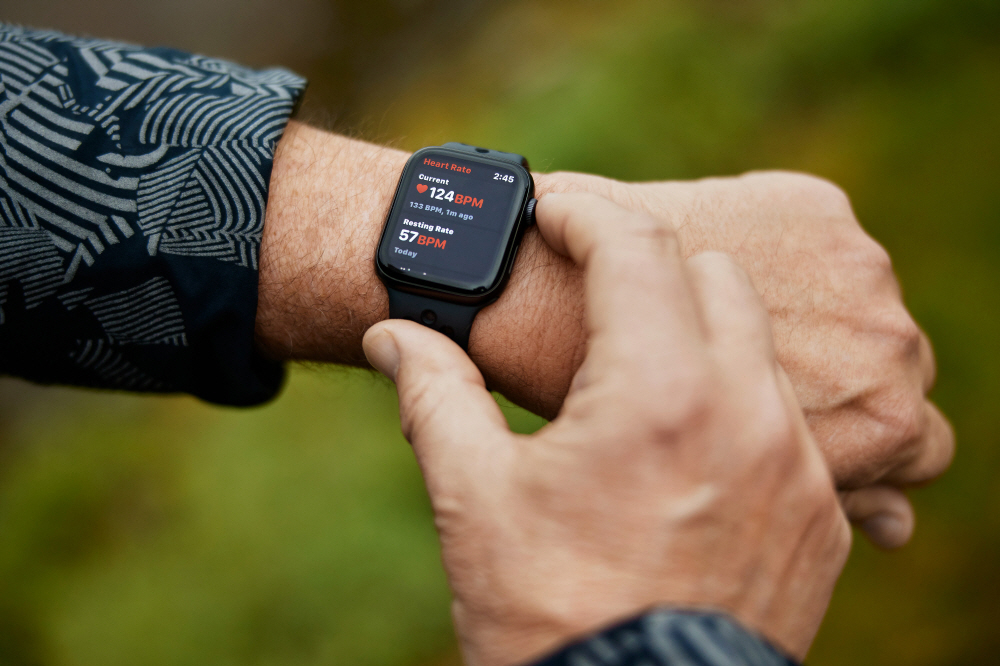 It has been found that Apple has partnered with Washington Medical School and the Seattle Flu Study to investigate whether it can detect respiratory diseases such as Corona 19 using the Apple Watch.
This study was announced at the Apple Watch presentation event in September last year. The research project is funded by the Melinda Gates Foundation, and the Corona 19 home test kit was provided by Seattle, Washington, USA.
The purpose of the study is to determine whether the information collected through the Apple Watch and iPhone can detect early signs of respiratory diseases such as Corona 19. Apple Watches are offered to those who are recognized as eligible to participate, and will be asked to answer a brief survey on the iPhone's Apple Research app about respiratory symptoms and lifestyle habits on a weekly and monthly basis.
The study is expected to take up to six months, and participants in the program will be required to wear an Apple Watch throughout the day and night. Eligibility for participation is over 22 years of age and residents of Seattle with iPhone 6s or higher.
Earlier this year, Mount Sinai University of Medicine in the U.S. announced the results of a study that could predict corona19 infection a few days before the PCR audit with an Apple Watch. It is based on changes in heart rate, that is, heart rate interval period fluctuations, but this time, other numbers may also be targeted.
There is a rumor that the next Apple Watch will add a blood glucose measurement function, so more health-related functions are expected to be added in the future. As Timcook CEO said, early detection of diseases can be expected to significantly reduce medical expenses.
Meanwhile, on April 15th (local time), Apple announced the Restore Fund for the first time in its efforts to reduce greenhouse gas emissions. It is right after the Apple Store logo has been changed to green with a willingness to participate ahead of Earth Day on April 22nd.
The fund aims to reduce carbon dioxide in the atmosphere, and invests directly in forest projects to reduce greenhouse gas emissions and allow investors to gain financial returns. It is a joint project between Goldman Sachs and the environmental news organization Concert Persson International.
The Apple Fund is $200 million. Based on this funding, it aims to expand investment activities for reforestation by presenting a feasible financial model with the goal of reducing at least 1 million tons of carbon dioxide per year in the atmosphere.
These efforts are part of a multifaceted response to Apple's commitment to carbon-neutralizing the entire value chain by 2030. Direct reduction of carbon dioxide emissions for supply chains and products within the due date is expected to be 75%, and Apple headquarters intends to address the remaining 25% through this time.
Regarding this announcement, Apple's vice president of environmental affairs, Lisa Jackson, said that in nature, there are some of the best methods that can be used to remove carbon dioxide from the atmosphere. Environments such as forests, wetlands, and grasslands contain carbon dioxide from the atmosphere and transfer it to soil, roots, and branches. It aims to make a broader change in the future by presenting the impact of carbon dioxide in a realistic and measurable form, saving it forever and generating monetary returns through funding. In addition, it added that it will be possible to promote capital investments globally to solve such carbon dioxide, so that Apple will share the purpose that Apple is pursuing for others, so that resources will be invested in supporting and protecting the ecosystem in crisis.
In other words, it will absorb the carbon dioxide accumulated in the forest, such as plants, and drive it out of the atmosphere forever. The project to be funded is expected to be decided this year.
Apple has also released a 2020 environmental report. It deals with progress in the overall response to sustainability. Related information can be found here.