Semiconductor supply in the first quarter of 2021 was significantly below demand, and on March 8th, Samsung Electronics issued a warning that there was a serious shortage of semiconductors around the world. In this situation, executives from leading semiconductor companies around the world, such as Intel, Nvidia, and TSMC, asked the question of how long the semiconductor shortage will continue, and in the worst case, they are attracting attention, predicting that it will continue until 2023.
When asked about the semiconductor shortage, the CEOs of these three companies have in common that their predictions are slightly different, but will continue throughout 2021.
Intel CEO Pet Gelsinger announced plans to establish two new factories worth $20 billion in Arizona to meet the increase in production of chips for vehicles suffering from silicon shortages. It will take years, and it expressed the view that the chip shortage will continue after 2022.
Not only the CEO of Gelsinger, but also the CEO of TSMC, Wagerja, has a pessimistic view. He said that he wants to support customers by providing larger quantities in 2023, and he believes that the supply shortage will be resolved little by little by that time. .
Compared to these, Nvidia's CFO Collette Kress expressed optimism. In his report on the financial forecast for the first quarter of 2022, he announced to investors that he expects demand to exceed supply for most of 2021, but he believes that after the first quarter of 2022, sufficient supply can be provided to support sustained growth. Showed. In other words, it is predicted that the shortage of semiconductors will gradually disappear by 2021.
Due to the global shortage of semiconductors, a move to strengthen production capacity by introducing new manufacturing equipment is spreading to chip makers around the world. According to a report by SEMI, a semiconductor manufacturing industry group, the amount of investment in semiconductor manufacturing equipment around the world rose 19% from $59.7 billion in 2019 to $71.19 billion in 2020. By country, investment in 2020 is $18.72 billion in China, $1.75 billion in Taiwan, $16.80 billion in Korea, and $7.58 billion in Japan. Compared to the previous year, they recorded 39% (China), 0.2% (Taiwan), 61% (Korea), and 21% (Japan). As a result, China overtakes Taiwan, which was the lead in 2019, and Korea is in a fierce pursuit.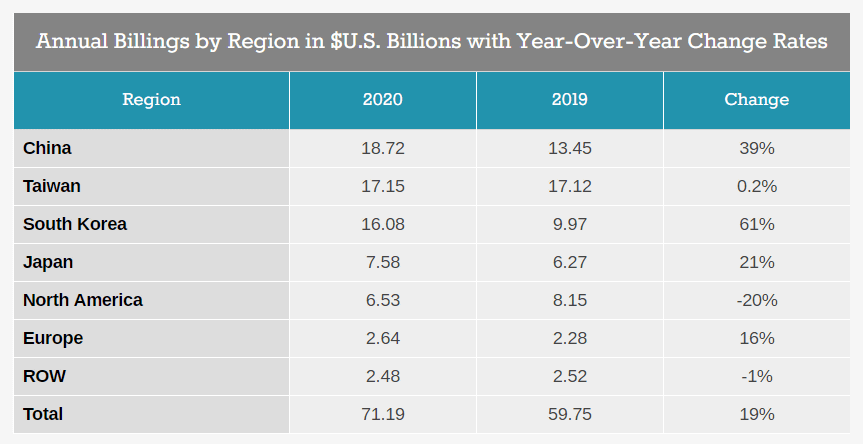 Meanwhile, in the United States, there is an argument that the congressional hardline should limit Chinese semiconductors, and that a sales license should be requested for Chinese-made chips designed under the 14nm manufacturing process. Related information can be found here.