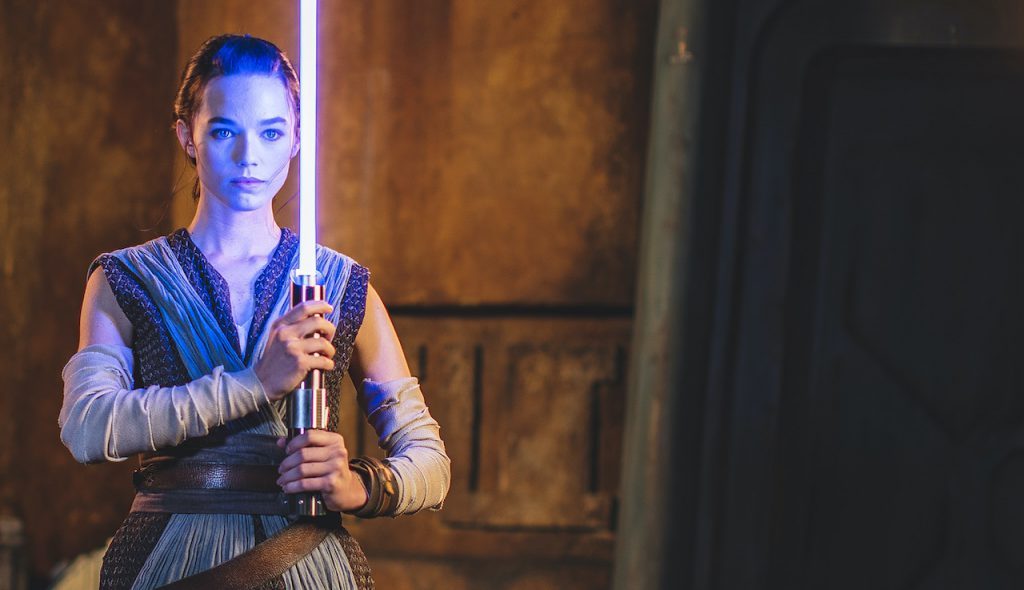 Disney slightly revealed a real lightsaber shining. It is not a CG but a real thing produced by the R&D department. It is said that you will be able to experience it at the Galactic Starcruiser, a Star Wars-style hotel scheduled to open in 2022.
This lightsaber seems to be deployed at a speed close to that of a movie, up to three times the handle part of a light blade made of almost uniform thickness and uniform brightness. Disney, of course, didn't explain anything about this lightsaber structure. However, in 2017, it applied for a patent (Sword device with retractable, internally illuminated blade) for special effects. If this lightsaber is a patented structure, the identity of the blade of light is the two resin ribbons housed inside the handle and the LED strip used in general as an electric light decoration. As a close example, while a metal tape measure is wrapped and stored, the ribbon part is slightly bent to support its weight to a certain length and maintain a straight shape.
The Disney lightsaber patent applies this to store a set of two resin ribbons that diffuse light around the interior of the design. The LED strip, which is wrapped and stored in a bent shape, is a structure that allows the cylindrical blade to be stretched and contracted freely by pulling it out using a motor when it is pulled out while covered with two semicircular ribbons.
Disney plans to make the Real Lightsaber experience available at the Star Wars Experience Hotel, which will open in the Disney World Resort in Orlando, Florida, in 2022. This hotel is a lodging entertainment facility modeled after a spaceship appearing in the world of Star Wars. Reproducing the space station as a front desk and arriving inside the cruiser that resembles a shuttle, you can experience Star Wars space travel in the same world view, such as a room with a luminous body overlooking the universe, a lounge and a restaurant where you can enjoy traveling around the galaxy.
There will also be a place where you can experience lightsaber. Related information can be found here.