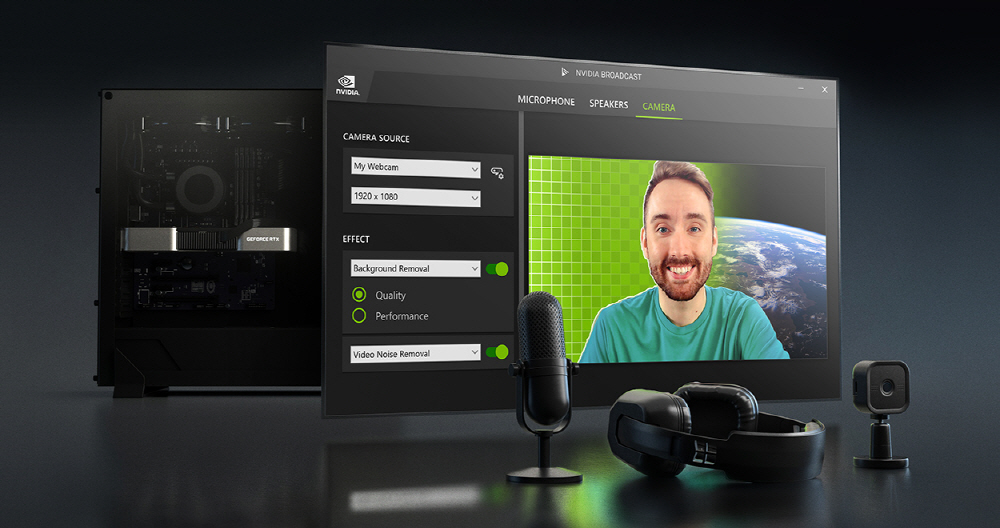 NVIDIA has greatly enhanced the functionality of NVIDIA Broadcast, one of its applications. NVIDIA Broadcast is a game delivery support application. The latest version has improved the voice quality. In version 1.2, voice echo cancellation and video noise reduction were added.
Nvidia Broadcast can remove various voice noises by combining with its GeForce RTX series GPUs and AI processing that utilizes the high power of the GPU side. Also, in the video, it is possible to blur the background or replace it with a game video and image than the previous version.
In version 1.2, which began distribution this time, a Room Echo Removal function was also added to make the voice easier to understand. It is a function that removes echoes and reverberations that occur depending on the condition of the room and makes the sound clearer.
Video Noise Removal makes it possible to reduce static noise generated by low-quality cameras. This noise is especially common in low light situations. In addition, the existing audio noise canceling function has been enhanced, adding a profile that can further separate the sounds of dogs, cats, and even insects. It also improved the Auto Frame function, which automatically adjusts the camera's angle of view, and added a buffer area that moves frames only when the distributor leaves the center third of the screen. This allows for a more natural frame.
Not to be missed is the ability to perform multiple AI effects on one device. For example, background flow and auto frame expression. Until now, it was necessary to select the AI effect to use, but the convenience has increased as multiple executions are possible. Related information can be found here.