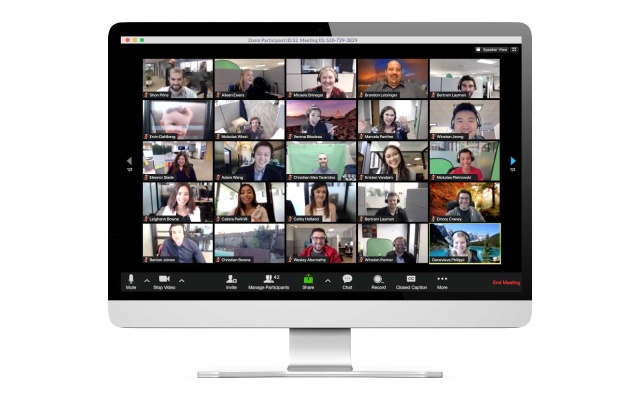 Companies that have introduced working from home due to the Corona 19 epidemic are increasing their number of meetings using video conferencing tools such as Zoom. However, voices complaining that video conferences are more tired than face-to-face conferences are increasing. What is the reason you feel the burden of video conferencing?
First is the gaze at close range. Usually, face-to-face meetings are a few meters away from each other, but the other person's face is not tens of centimeters away from one's own face. However, in a zoom conference, the image of the face taken with a PC camera or the like is displayed on a large screen, so you can feel the other person's gaze from a close distance.
Of course, it is not a problem to see it from close range if you are a family member or a couple, but if you are a co-worker and a boss, the distance is too short. For example, when a stranger rides the elevator at intervals of several tens of centimeters and the passengers look at each other's faces, they turn their eyes because it causes inconvenience to look at the face of an unfamiliar person from a short distance.
The brain pays great attention to the face, and when it sees a big face, we react to fight or run away. From an evolutionary point of view, he says that if a very large human face close by looks at himself, he has the potential to participate in conflict or mating, and that it is not appropriate for meetings for work.
Second, increased cognitive load. It is pointed out that in video conferencing, the cognitive load on the brain is greater than in face-to-face conferences. If you are face-to-face, it is necessary to consciously enter the camera's angle of view, such as nodding or attempting eye contact. In addition, since the other party can see himself and the meeting members reflected on the PC screen rather than seeing himself directly, eye contact failure or misinterpretation of the other person's gaze is increasing.
In addition, in a 2019 study comparing face-to-face interaction with videoconferencing interaction, it was also found that videography was 15% louder than face-to-face meetings. This means that you can continue to put a bigger load on your brain with a slightly louder sound than usual.
Third, the burden of continuing to see one's own face. In everyday life, seeing one's face is all about standing in front of a mirror or taking a selfie. However, in video conferencing, there are many cases where one's face appears on the edge of the screen. Keeping looking at one's face can lead to stress, which can lead to unconscious self-criticism or adversely affect the mind.
Fourth is physical unnaturalness. Because the camera angle of view is limited, people who participate in the video conference should be careful not to come out of the range. You're usually sitting in a chair during a videoconferencing, and if you don't get too far away from the camera to be your face, you'll hardly ever move. This level leads to stress.
In face-to-face meetings, there are surprisingly many opportunities to move, such as moving your body forward or up on a chair, facing sideways, standing up, drinking water, writing something on a whiteboard, and so on. However, in video conferencing, this movement has high psychological barriers and it is difficult to make small mood changes.
Video conferencing has various factors that are prone to stress, but video conferencing has many advantages, and it is highly likely that video conferencing will not disappear even after Corona 19 is over. For more comfortable video conferencing, instead of displaying the other person's face on the entire screen, it is recommended to reduce the size to about a third and take measures such as hiding your own face without worrying too much about the other person's actions. Related information can be found here.