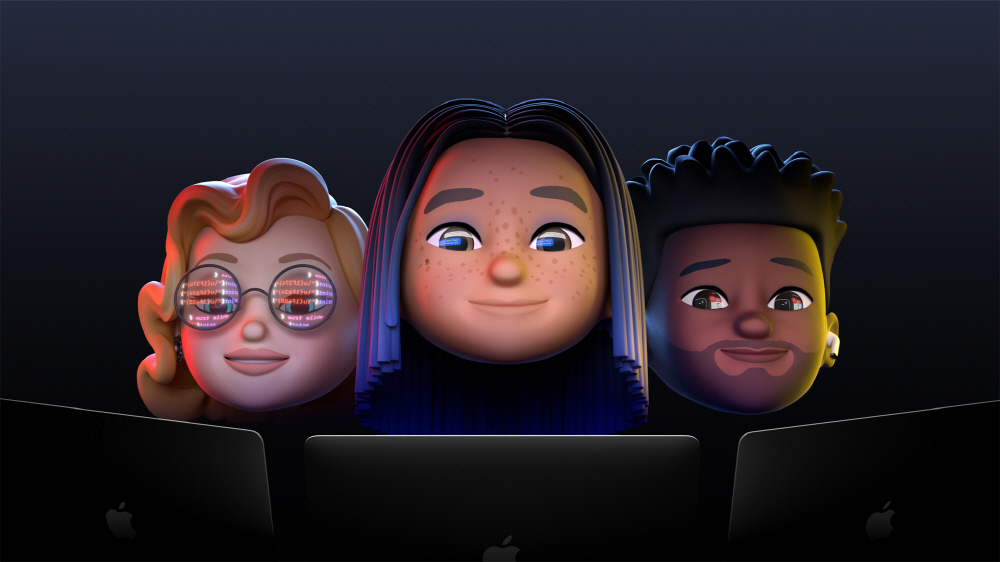 Apple has unveiled the WWDC21 event schedule, a global developer conference. The keynote speech began at 2 am on June 8th, and as in last year, it is conducted online virtually, and all developers can participate for free.
The keynote speech will be broadcast directly from Apple Park, the headquarters of Apple, through the official website, YouTube channel, Apple TV and Apple developer app. As in previous years, major system software updates such as iOS, iPadOS, and macOS are expected to be announced here.
In addition to the keynote speech, the contents of each session are explained, but the schedule has already been announced last March, and there is no specific comment on what will be announced in this announcement. The only new addition is the image of three characters smiling in front of a device. However, there are also opinions that this image is a tip for an unpublished product. Three strings reflected upside down on the left eyeglass. It is interpreted that a new MacBook model will be announced, saying that it is a knife, a fork, and a laptop in three emoji Unicode.
Another report said that a new MacBook Pro will appear as early as early summer, and that the MacSafe charging connector and HDMI terminal that connects two types of screen sizes with magnets of 14 inches and 16 inches will be revived. do.
While WWDC rarely announces hardware products, there is a precedent for the MacBook Pro 2019. At the same time, there is a possibility that the M1X or M2, which is expected to be installed in the next MacBook Pro, will be introduced.
Meanwhile, on May 25th, Apple started delivering macOS Big Sur 11.4. Similarly, delivery of iOS 14.6, iPadOS 14.6, WatchOS 7.5, and tvOS 14.6 is also starting.
MacOS Big Sur update can be done from the Mac App Store update or from the System Preferences application software update menu. In this update, it first responded to the Apple Podcast, a podcast subscription service that was announced at the April event. Specifically, it can be purchased monthly or annually, and a channel listing podcast creator programs has become available. Other important bug fixes are also included. Related information can be found here.