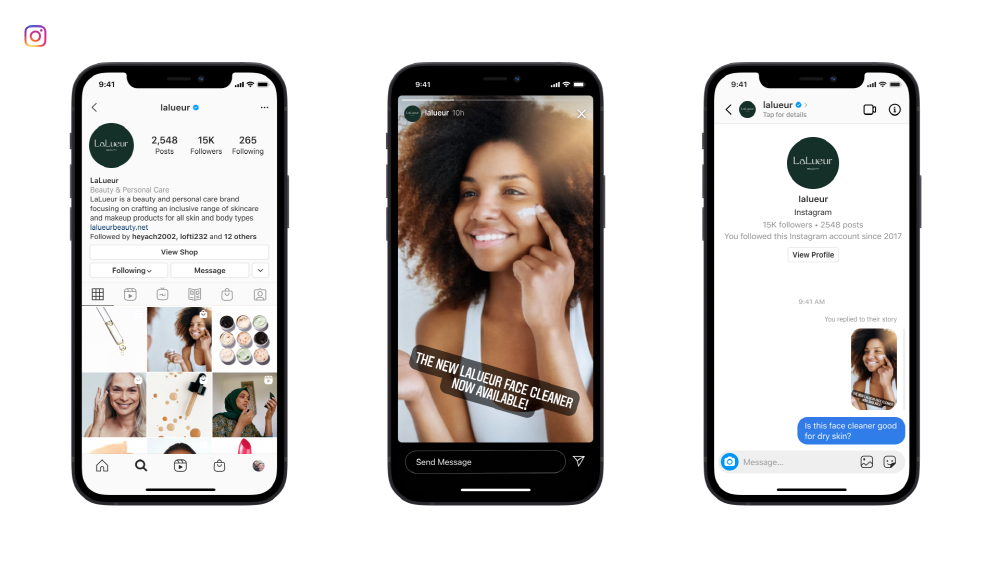 Facebook announced new APIs and features for businesses at F8, Facebook's annual developer conference, on June 2nd (local time). By using business APIs and new functions, companies using Facebook's video sharing SNS, Instagram, messaging app WhatsApp, or messenger, can improve customer satisfaction through messages. The most eye-catching API for businesses using the Facebook platform. Instagram is not only a place where regular users share photos and videos, but also a place where various brands radiate charm to users. According to Facebook, 90% of Instagram users follow a brand account and feel connected to the brand through features such as replies to stories, direct mail, and mentions. As a result, Facebook is making its new Instagram Messenger API available to all developers and allowing brands to offer Instagram messaging functionality.
On October 30, 2020, Facebook conducted a beta test of the Messenger API for Instagram targeting developers and 700 brands and received various feedbacks. If a brand uses the Messenger API for Instagram, users can open the messenger screen directly from the brand's Instagram profile page. Because some brands prepare template text in advance, users can send text in one tap for general inquiries.
Businesses can reduce the time to resolve user inquiries, increase efficiency and improve customer satisfaction, as not only brand outgoing, but also user communication is integrated into Instagram.
Here are the API updates for WhatsApp for Business. According to Facebook, 175 million people a day now send messages to WhatsApp corporate accounts to ask questions about products and get customer support. Facebook has announced that it is updating its WhatsApp Business API.
Looking at the improvements, we first saw a reduction in adoption time. Previously, when a new company used the WhatsApp Business API, it took several weeks from application to start of use. With the new update, the introduction time has been reduced to 5 minutes.
The next step is to improve notification messages in the enterprise. The existing API for business made it difficult for companies to send notifications in a timely manner and to respond to user questions within 24 hours. The new update will allow businesses to send more kinds of messages faster.
Here are some improvements to messaging. With this improvement, businesses will be able to offer up to 10 sentence templates and users will be able to send a question in one tap. Replies can also be selected in the template, so message exchange is expected to be smooth.
Next is Login Connect with Messenger. One of the main products Facebook offers is Facebook Login, which allows you to log into an application or service using your Facebook account. At F8, it went one step further from Facebook login and announced Login Connect with Messenger, which allows you to open the corporate messenger screen directly from the Facebook login flow. With this feature, you can start exchanging messages with customers through your Facebook login. Related information can be found here.