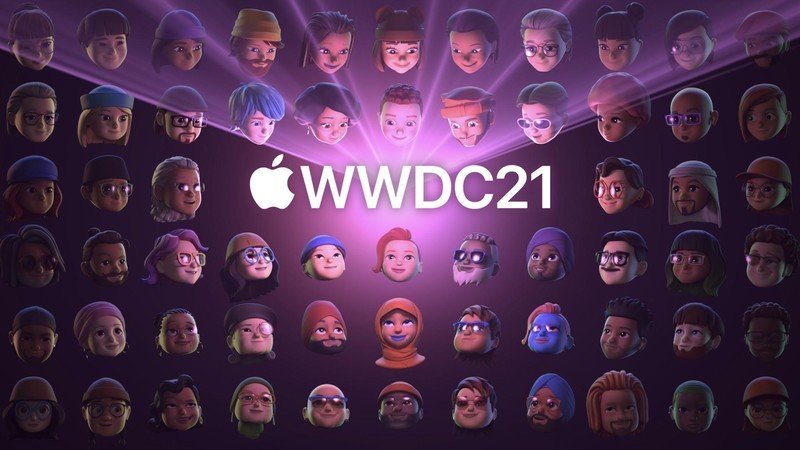 Apple held the Apple Worldwide Developers Conference (WWDC), a software developer event at 2 pm on June 8. This event provides a forum for exchange through more than 200 various sessions for registered developers, individual 1:1 consultations, forums and lounges, but the first keynote lecture will also be delivered to general users.
◇ iOS 15 "FaceTime link · Shea played" = the first iOS 15 previews. At this event, Apple unveiled a preview of iOS 15, the next-generation operating system for the iPhone. General user availability is scheduled for this fall. The developer preview will start on the day of the announcement, and the public beta will be in July. Upgradable iPhone models are the same as iOS 14. This is possible with iPhone 6s or later.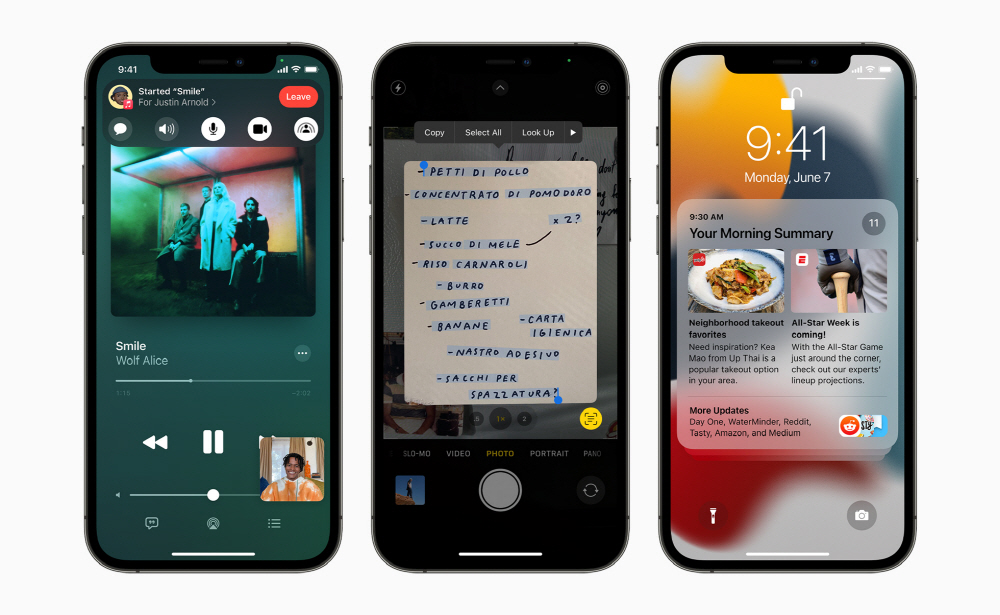 The first improvement mentioned was FaceTime, a video calling app. If you use FaceTime Link, an online meeting function, you can join through a web browser on Android or Windows PC. As Apple focused on security as well as meeting attendance, data during calls is encrypted end-to-end. As joining from the web becomes possible, a request to join a link can be sent as a web link, and other video conferencing apps are equipped with important functions, such as specifying a time or scheduling a meeting room.
In addition to the function considering the purpose of the Mars conference, the function to reduce ambient noise around the voice and make the voice clearer (Voice Isolation) or the function to use it as a background blur may be useful functions even in 1:1 calls.
In addition, it supports SharePlay, which allows music or video sharing and viewing, spatial audio support, enhanced microphone noise canceling function, and portrait mode support. In the case of Share Play, not only screen sharing, but also video or music of the service can be shared online so that they can watch it together. SharePlay can be used as an embedded API in third-party apps. By mentioning that it is already cooperating with Disney+, Hulu, HBO Max, TikTok, the NBA, and Twitch, it emphasizes that it is not limited to Apple services such as Apple Music or Apple TV+.
These days, we added a function that automatically classifies and organizes app notifications, which are often a factor that hinders user concentration, through Notification Summary. We are devising ways that do not disturb the user's concentration, such as waiting for display or display until a specified time according to the priority set.
The Photos app is equipped with a Live Text function that can recognize captured object characters, including handwriting, and convert them into text. This can be linked with Spotlight search, so you can search for photos that contain handwriting corresponding to text.
The Photos app has many other improvements, including a new screen design. The For You tab is also undergoing a number of changes.
Another notable thing is that the screen design has been changed, such as the standard web browser Safari tab bar appearing at the bottom of the screen. You can also switch tabs by swiping left and right on the tab bar, so you can switch tabs as smoothly as in the iOS version of Chrome. The web extension function is also released so that user-side extension, which has been prohibited so far, is possible.
In addition, it is equipped with functions related to usability and safety, such as strengthening Apple Map, a standard map, Apple Wallet, a wallet function, weather and memo, and increasing the fidelity of Apple's recent focus on personal information protection.
Among them, Apple Wallet and wallet apps evolve, allowing digital IDs to be stored on the iPhone. At first, some states in the United States support driver's licenses, and existing driver's licenses can be scanned and used on an iPhone. The digital ID is stored in the wallet app along with various credit cards. In conjunction with the US TSA, if you present your digital ID at the airport, you can solve some of the security checks when boarding the plane. It also added the ability to store hotel, home and work keys in the wallet app. The Hyatt Group has been announcing its introduction in more than 1,000 hotels since this fall. Over the past year, Apple has been working hard to develop technologies that support ID cards and passports.
Apple also announced the Home Key, the key to the front door of your home. This feature is stored in the wallet app. Apple also announced the opening of Siri to third-party accessories that support home kits related to smart home, so you can use Siri to control various smart home appliances. However, in this case, privacy is strictly protected, and for voice commands, Apple only sends an operation request to the receiving device, and when working, there is no need to worry that the voice will go to others.
Apple also announced support for the AirPods Pro Finder Network as a new feature in iOS 15. In addition to displaying it on a map like AirTag or alerting you by sound when you are nearby, it also responds to alerts in the search app. In iOS 15, AirPods Pro also respond to the search network like AirTag, allowing iPhone, iPad, and Mac in the street to become sensors like a mesh to discover nearby AirPods Pro. It also responds to loss alerts, so if you leave it somewhere, you can get a notification on your iPhone telling you where you lost your AirPods Pro.
AirPods Pro also support Conversation Boost as a new feature. For those with mild hearing loss, AirPods Pro uses the beamforming microphone and sound processing function to emphasize the voice of the person speaking in front, making it easier to hear. You can turn the dialogue highlight on or off, as well as quickly adjust the level of environmental noise reduction and left-right balance.
AirPods Pro are equipped with multiple microphones, allowing active noise canceling to suppress ambient noise, capturing external sounds while wearing them, and delivering your own voice clearly when making calls. Conversational emphasis features multiple microphones and sound processing power to help you hear the front-facing voice. This feature is expected to be officially released in the fall as a new feature in iOS 15.
◇ iPad OS 15 with enhanced multitasking = At this event, Apple also introduced a preview of the next iPad operating system, iPadOS 15 (iPadOS 15). Likewise, the general user release is scheduled for this fall, and the developer preview itself will start available on the same day, while the public beta is scheduled for July.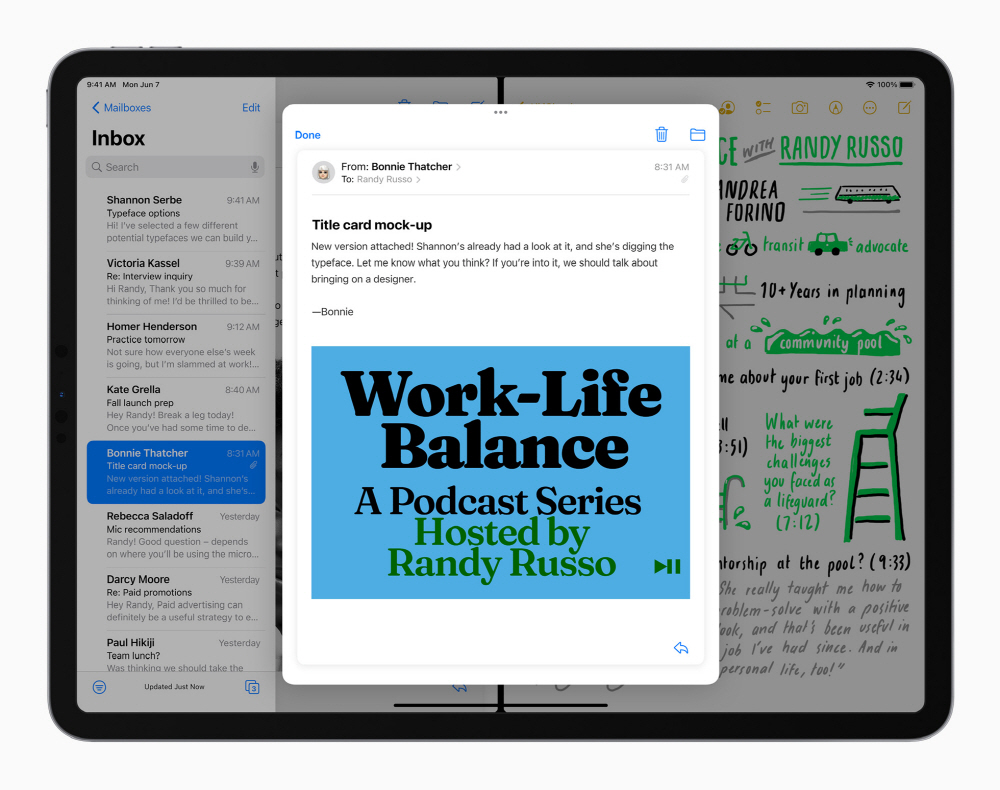 Upgradable iPad models are the same as the iPad 14. The iPad is compatible with the 5th generation and later, the mini series is compatible with the iPad mini 4 and later, the Air side is compatible with iPad Air 2 or later, and the Pro is compatible with all models.
In the case of the multitasking function that requires user reinforcement on the iPad Pro side, in terms of functionality, it enables quick operation, such as leaving the third screen open in the center in addition to the left and right screens. The dedicated menu at the top of the app is more intuitive by improving the operation method more smoothly, such as switching between Split View and Slide Over modes. A shelf corresponding to the screen minimized window has also appeared in macOS, etc., enabling flexible work, such as switching from the task list to the split view display by drag and drop. If you use an external keyboard together, you can multitask with shortcuts. This will allow for smoother application transitions.
Because it allows you to utilize a large screen such as a mixed layout of app icons and widgets on the home screen, and also introduces an iOS app library, you can use the automatic app cleanup function introduced. In addition, by using a screen mode that can take advantage of the large screen of the iPad, the translation app has been introduced in the past, and you can expect a convenient layout where two people can see the other side's translated lines from the side when they face each other with an iPad in between.
In addition, Quick Note, a memo app, can be displayed in a small window and can be viewed regardless of the state of other apps, so you can use it whenever you need a note. It also has tag classification and search functions.
The improvements introduced in iOS 15 are also inherited. These include video conferencing features such as FaceTime Link and Share Play. Of course, it also comes with enhanced Safari, and like iOS 15, it unlocks web functionality extensions to enable advanced customization that was not possible before.
Also noteworthy is Universal Control, a feature that can be used with the new macOS Monterey announced at the same time. The Mac side mouse and keyboard connected to the keyboard and mouse sharing function can also be shared on the iPad side, and file drag and drop operations can also be performed transversely. Apple Pencil handwriting and shapes drawn on the iPad side can also be shared, so you can sketch a drawing and place it on a keynote slide on a Mac.
In addition, it inherited major app improvements such as notification summary, photos, and maps, one of the features introduced in iOS 15. In this way, iPadOS 15 was strengthened to be called an operating system for the iPad, such as strengthening the multitasking function.
◇ Next Mac OS Monterrey and watch OS8 also released = Apple also announced watchOS8 (watchOS 8) new features at WWDC21. In watchOS 8, Apple Watch made it less reliant on the iPhone. In addition to bolstering the meditation app Breathe and refreshing the on-screen animations, we've added a guide display to help you clear your mind. The sleep tracking function introduced last year was also updated, bringing parameters such as sleep time, heart rate, blood oxygen concentration, and respiration rate when sleeping while wearing the Apple Watch, and imports them to the Health app along with the existing sleep time data.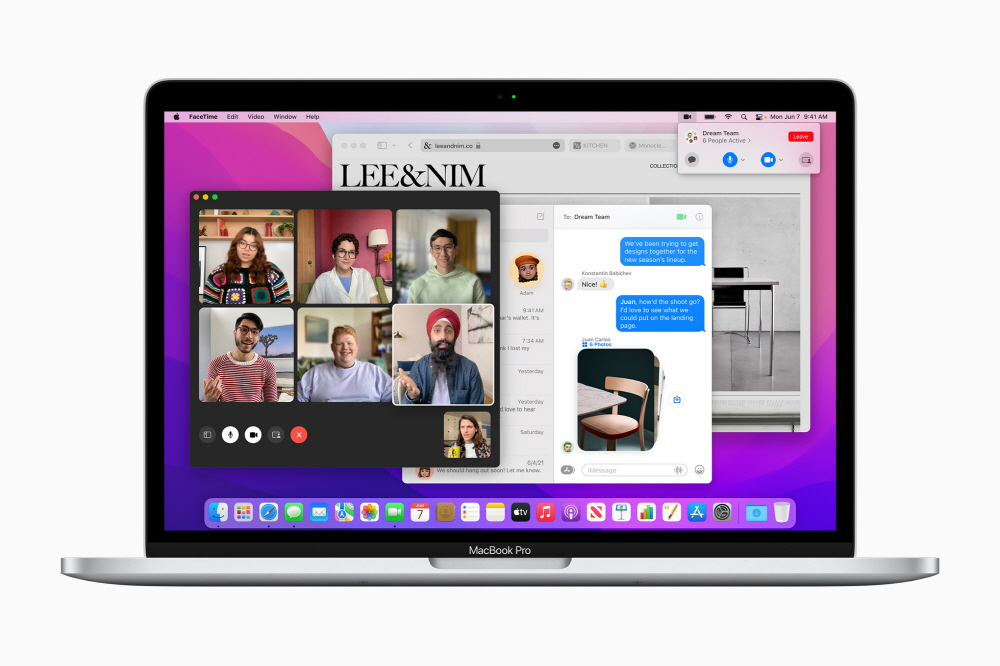 The exercise app will add Tai Chi and Pilates from this fall through Apple Fitness +, a subscription service. We've also added a series of renowned instructors, including artist spotlights featuring playlists of popular artists like Lady Gaga.
In addition to well-being, watchOS8 allows you to crop photos taken in iPhone portrait mode on the Apple Watch standby screen in the case of the Portrait watch face. You can use the digital crown to enlarge or reduce only the face part, or to display the shooting composition, time and other information together. In addition, we made it easy to find Apple Photos photos in watchOS.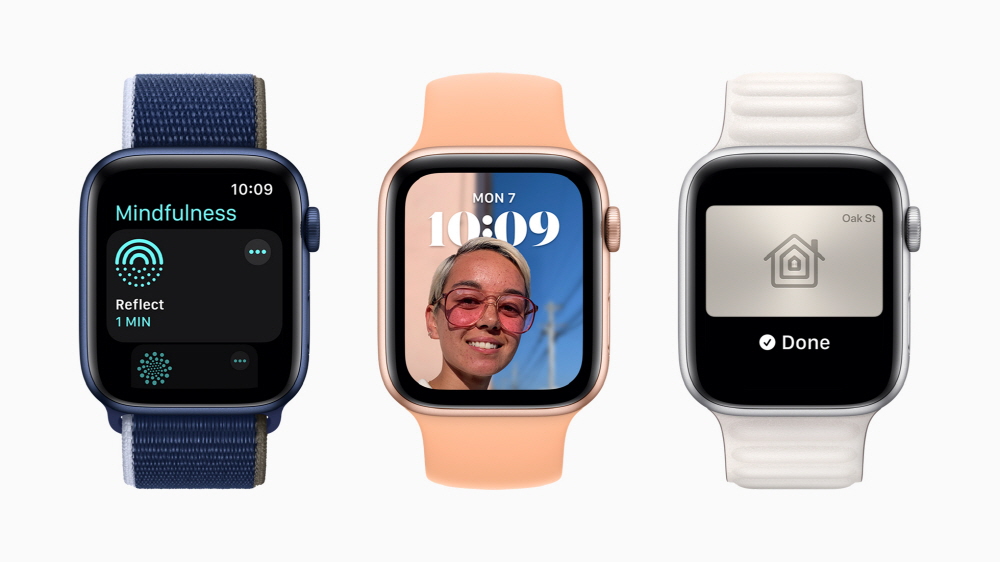 The enhancement of the message function is also one of the important updates. WatchOS made it easy to edit messages along with cursor manipulation through the digital crown, and added GIF animations to messages. In addition, the music app, weather app, AssistiveTouch search function, and CarKey function UWB support are also available. The full version of watchOS8 is scheduled for this fall and can be used on Apple Watch Series 3 or later. The developer beta version is scheduled to start on the day of the announcement, and the public beta is scheduled for July.
As mentioned earlier, Apple also announced the next macOS, Monterrey. Monterrey is the location to the east of the movie Eden, and Big Sur, where the previous version was based, is also in this area. All of them are in California, USA, where Apple's headquarters is located, so the tradition of macOS has been preserved.
The most notable new feature is Universal Control, which allows you to seamlessly use your keyboard and mouse between your Mac and iPad. In other words, when you hold the iPad to the Mac, the pointer moves towards the iPad, and both devices can be operated with the same keyboard and trackpad.
Although third-party apps such as Across provide the same function, it is an advantage to put the settings built into Apple OS into the ecosystem.
Another new feature, AirPlay to Mac, lets you transfer your iPad screen and music to your Mac. It can be said that it widened the range of using the high-quality speakers in the 24-inch iMac.
◇ iCloud + " Post-authorization succession function " = Apple also suggested the Digital Legacy Program as part of iCloud +, a service that strengthened iCloud at the event. When the user himself dies, the authority is transferred to a trusted party.
When a user dies, Facebook is also preparing a memorial account that allows the account to be a friend or family member and prevents other users from logging in. However, this is a structure in which people close to you other than yourself can apply. In contrast, in digital legacy programs, the user himself nominates the other party during his/her lifetime and enforces the authority. It has not yet revealed the procedure or when the service will be launched.
Apple also announced at WWDC21 that it had introduced a Spatial Audio feature that supports Dolby Atmos to Apple Music. Some artists such as Ariana Grande and Maroon 5 already support spatial audio, and you can enjoy mixed music for 3D spatial audio using AirPods equipped with H1/W1 chips, AirPods Pro, Max or Beats headphones. In addition, you can experience the spatial audio function with the built-in speaker for the latest iPhone, iPad, or Mac even if the headphones are not nearby.
Apple Music announced that it will also start lossless, high-resolution delivery in June, but WWDC did not explicitly mention this. It looks like the trial delivery has already started for some users, but Apple's support page also says it's coming soon, so you might have to wait a bit. In addition, the Dolby Atmos spatial audio function can be used through an update on tvOS equipped with Apple TV or Mac with M1 chip.
◇ The key point of the opening video = On the other hand, Apple has released the opening video for the first 3 to 5 minutes during the keynote speech. While the keynote marks the beginning of the year, it hints at what will be announced that year.
If we look back over the past few years, Siri throws a poignant joke about Android at the first WWDC since Steve Jobs left office in 2012. CEO Tim Cook said in the opening video, is there anyone working on ice-stream sandwiches and jelly beans? Some say that it is a refrigerator, not a smartphone, saying who gave it this name or saying they are excited about Samsung Electronics' new product. At WWDC 2012, the first MacBook Pro with a Retina display was announced.
2013 was a design year for Apple. iOS7, announced during WWDC 2013, was known as an operating system designed by Johnny Ive, an Apple product designer at the time, and was an operating system that showed the design of hardware and software without discrimination. At the time of its announcement, it was criticized that Jobs would not have done this, but the flat design of iOS7 has now become a global standard.
This WWDC 2013 opening video was a simple animation with lines and dots as motifs. We are starting to misunderstand, and Apple is emphasizing the essence under the message that convenience is pleasure, and that there are many types means that there are many options.
At that time, it was after Jobs retired, so it was a time when some users were criticized for the spirit that Jobs would have been like this no matter what he made. Apple has a strong image of Jobs soon, so Apple emphasized the message at WWDC that the essence of Apple is design.
The 2014 WWDC opening focused on the developer profession. The App Store, which celebrated its 5th anniversary in 2014, became a huge platform with 300 million visitors every week. The opening video begins with the image of an otaku or developer locked in a room wearing glasses without shaving their beard. However, various jobs are appearing where apps are essential to work, such as saying that the applications they make made life good, Airbnb saved lives, and that life would not be possible without Alipay. It was an announcement that a developer is a socially essential job.
There is no video left for 2015, and there was no original opening video for 2016. Next, the theme of the 2017 opening video is what will happen if all applications in the world disappear. An Apple employee unplugs a server room outlet to use power in a data center. Then the app disappears from smartphones around the world. It has fallen into a global emergency, such as the disappearance of the Maps app and frequent traffic accidents in the city. In villages, the phenomenon of apps becoming analog is rampant. A world without apps is chaotic. It's an exaggeration, but it's a video expressing gratitude to the developer that the world depends on the developer by saying that the world will be like this when the app disappears.
The opening video for 2018 introduces developers from all over the world gathered at WWDC venues. After 11 and a half months of hibernation, saying that the world's most mysterious great migration unfolds every year, sunlight pours down on them living in a nocturnal cave, and the developer shows a marker to differentiate themselves.
The 2019 opening video focused on the developer at work. It captures the image of a developer who silently works on a project alone in the middle of the night when children are sleeping in an apartment where only the room is lit. It depicts the anguish of the developer, such as being unable to execute the written code. At the end of the video, you say you are dreaming while the world is asleep.
In 2020, the first remote event was held as the infection spreads worldwide. It was pre-produced by placing cameras at several Apple Parks. Although the opening is also remotely held, it simply shows that WWDC participants have one heart even if they do not gather in San Jose.
This year, the theme of the opening video was about developers coming up with ideas for what to do with WWDC. With a message to come to WWDC for brilliant ideas. Related information can be found here.