Bitcoin, a peer-to-peer cryptographic asset, was originally a digital currency managed by a distributed ledger, but now it is sold as a financial product rather than a currency. Bitcoin price fluctuates significantly from day to day, and investors can make significant gains or losses based on these differences. Chainalysis, a market research firm related to crypto assets, calculated the profit from these bitcoin transactions by country.
As mentioned earlier, since Bitcoin is based on blockchain and distributed ledger technology, there is no way to accurately determine where individual transaction parties are, and it is difficult to analyze them geographically. Therefore, Chain Analysis measured the on-chain flow at crypto asset exchanges in each country, converted the price of Bitcoin traded on the platform, and predicted the realized profit by Bitcoin in US dollars. In addition, profits were distributed by country according to the percentage of traffic each country occupies on each exchange's website.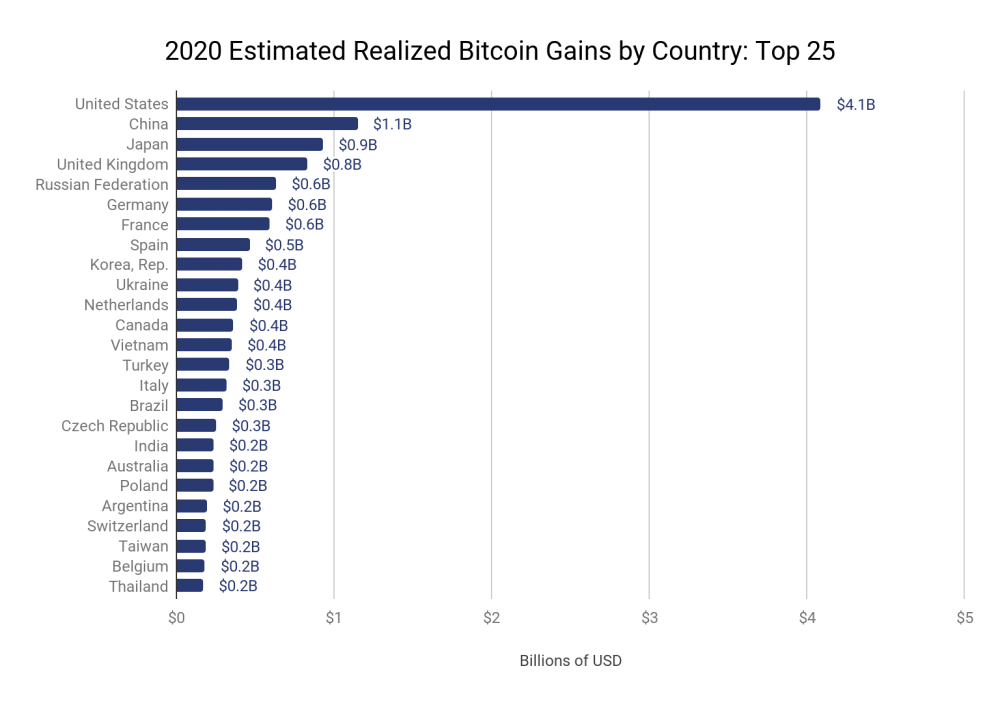 ChainAnalysis argues that non-exchange-derived cryptocurrency gains are not taken into account, but that the analysis allows investors to reasonably predict the gains from selling bitcoin in 2020.
According to the results of the analysis, the first place was the United States, which earned $4.1 billion in revenue, followed by China with $1.1 billion in second place, and Japan with $900 million in third place. Korea ranks ninth with $400 million.
ChainAnalysis pointed out that there are countries that rank higher in Bitcoin investment compared to existing economic index rankings. For example, Vietnam, which ranks 53rd in the world with a GDP of $262 billion, is classified as a low-income country by the World Bank, but is ranked 13th with $400 million in Bitcoin profit rankings due to its high penetration of crypto assets.
In addition, the Czech Republic, where Bitcoin is accepted, such as installing Bitcoin ATMs in subways, is ranked 54th in GDP, but Bitcoin profit is $281 million, ranking 17th in the world.
On the other hand, India, which recorded $2.9 trillion in GDP, the fifth largest in the world, is ranked 18th in the world with $241 million in Bitcoin investment profit. Compared to the size of the domestic economy, it is quite sluggish. It can be said that the Indian government has had a negative impact on crypto assets, such as banning banks from trading crypto assets on exchanges or reviewing bills to ban crypto assets outright.
Turkey, which ranks 25th in the world with a GDP of $761 billion, is ranked 16th with $300 million in Bitcoin investment gains. However, there is a possibility that the Turkish government may not be able to obtain large profits from Bitcoin in Turkey in the future as the Turkish government has taken a crackdown on crypto assets.
This analysis suggests that Bitcoin is giving emerging market investors high returns that they could not otherwise achieve. The data also suggests that citizens are losing these opportunities in countries where strict regulations restrict the use of crypto assets. Related information can be found here.