Market research firm SA (Strategy Analytics) announced the results of the 5G smartphone market research in the first quarter of 2021. According to the report, global 5G smartphone shipments were 136 million units in the first quarter, and the world's fastest-growing 5G smartphone companies are Samsung Electronics and Vivoda.
According to SA, global 5G smartphone shipments in the first quarter of 2021 recorded a record 136 million units, a 6% growth compared to the previous quarter. Demand for 5G smartphones is increasing in China, the United States and Western Europe, with annual global shipments of 269 million 5G smartphones in 2020, but SA predicts that annual shipments of 624 million will reach a record 624 million in 2021. is predicting
Looking at the market share of 5G smartphones by company, Apple ranked first in shipments in the first quarter. However, if you pay attention to the growth rate, the biggest growth among 5G smartphone companies in the first quarter was Samsung Electronics, which launched 5G smartphones such as the Galaxy S21 as its flagship model. Samsung Electronics is expanding its market share in Korea, the United States, and some markets in Europe, and according to SA, Samsung Electronics' 5G smartphone shipments increased by 79% from the previous quarter to 17 million units.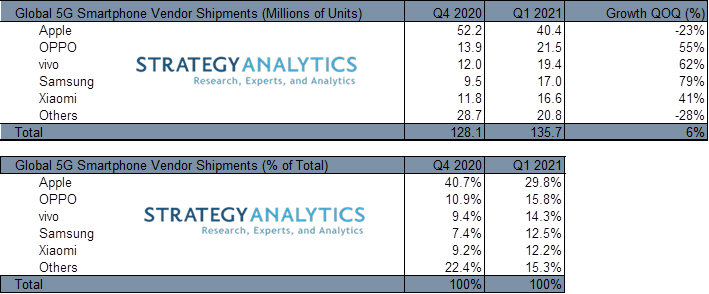 In addition, Chinese smartphone maker Vivo, which introduced iQOO U3 and U7, recorded 19 million 5G smartphone shipments, up 62% from the previous quarter. Similarly, Chinese smartphone maker Oppo saw a 55% increase in shipments of 5G smartphones from the previous quarter. Xiaomi showed a 41% QoQ increase.
On the other hand, Apple, which announced the iPhone 12 series supporting 5G, retained the top spot in shipments, but its market share also decreased to 29.8% from 40% in the previous quarter to 400,000 units, down 23% from the previous quarter. However, SA is showing the view that the negative growth rate of Apple is not simply a decrease in sales, but a rebound in the fourth quarter of 2020, which is the previous quarter, because the iPhone 12 series was a bigger hit than expected.
SA said that although Samsung Electronics is growing rapidly in the 5G smartphone market, it is far behind in the Chinese market. It is analyzed that it is a stumbling block to increase profits and profits as it has almost no presence in the United States, where it is of high value. Related information can be found here.