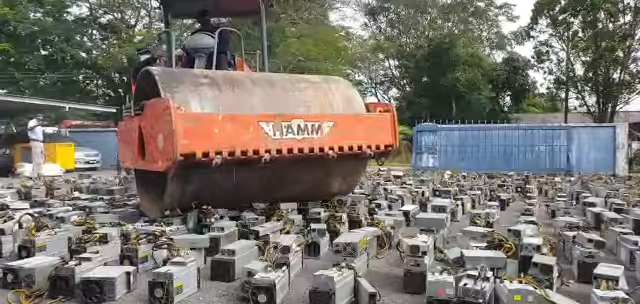 Recently, while mining of cryptocurrencies such as Bitcoin is overheated, there is an incident where the illegal use of electricity to execute it is discovered. Recently, a mining plant using more than 5,000 PlayStation 4s and PCs was discovered in Ukraine in Eastern Europe.
In the midst of this, a video of 1,069 mining PCs confiscated from a suspect who stole electricity for cryptocurrency mining was hit by a large construction vehicle and destroyed. According to local media in Milly, a city located in Sawaraku, Malaysia, the local police confiscated 1,069 mining equipment to a suspect who stole electricity for cryptocurrency mining. The device was confiscated between February and April this year through a joint investigation by Milley Police and a local power company, and the estimated price is said to reach RM5.3 million.
In this operation, six people were arrested for power theft and were fined up to RM8,000 and jailed for up to eight months. Local media reported that the stolen power was estimated to be RM8.4 million, while a video of over 1,000 mining PCs being destroyed with large vehicle rollers was released.
Recently, according to Chinese regulations, cryptocurrency prices have plummeted, and if you pay your electricity bills as it is, your losses could increase rather than profit. In fact, in this case as well, the total amount of stolen power generally far exceeds that of expensive mining equipment. Related information can be found here.