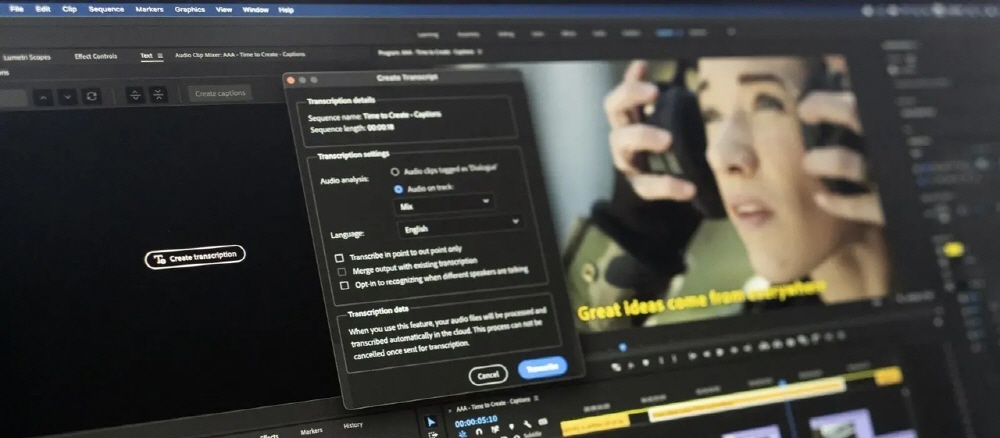 Adobe has added an update to its video creation software, Adobe Premiere Pro. In addition to voice-to-text, various updates have been added.
First of all, Premiere Pro is finally native to the M1 chip. It is explained that the average time from app startup to editing has been reduced by 77%. Since Premiere Rush, a mobile video production app, already supports the M1 chip, it seems that the PC version will support it later.
Next is Speech to Text. Just select the order you want, subtitles, select characters from sequences, auto-characterize, select language, and more. The data is uploaded to the server and the whole process is completed in 12 to 30 seconds. The completed text can also be directly edited. When a caption is created, it is automatically performed until text is placed on the timeline as a caption, and the part of the conversation is automatically separated by the caption. Multilateral awareness is also supported. Subtitles with shadows can also be edited, and editing is implemented with a new editing panel called Essential Graphics.
Next up is After Effects. Multi-frame rendering is implemented in beta as software for motion or VFX production. By accelerating preview and rendering, After Effects automatically adjusts resource usage, making previews 3x faster. In addition, it responds to remote alarms in connection with Apple Watch, etc., and the rendering progress and completion can be received remotely or via e-mail. Exports using Media Envoder are also up to 3x better.
Character Animator, which can easily create animations, also supports the M1 chip natively and has added new functions such as a full body tracker in beta. In the case of Puppet Maker, which can create characters from presets such as hairstyles and skin tones, it is possible to create avatars. The full body tracker animates the character with movement through the camera. Character animators used to support lip sync, but this time arms and legs can also move like motion tracking. Related information can be found here.