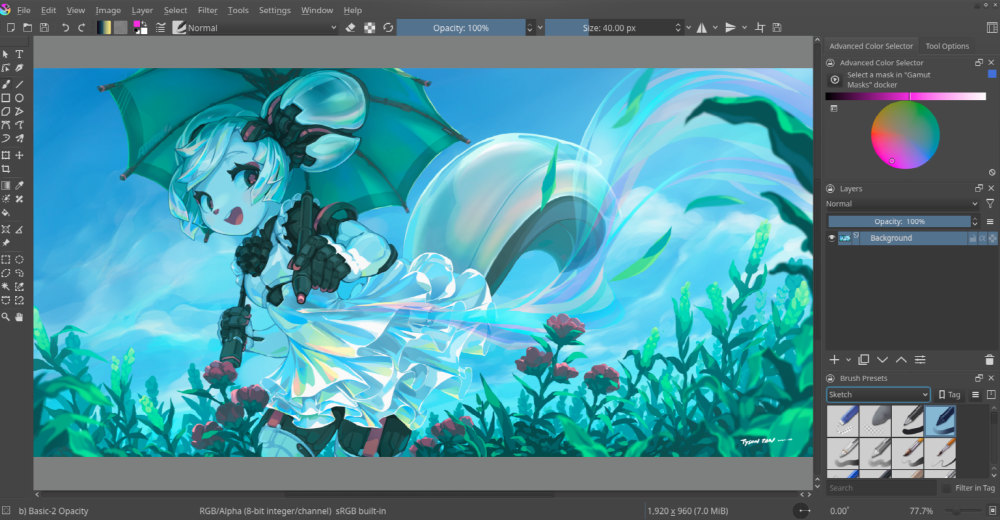 On August 18, 2021 (local time), Krita, an open-source digital painting studio, released the major release Krita 5.0 beta. It contains many new features and changes, such as a completely new resource system from Krita 4.0.0, which was released as a full version in March 2018.
First, we completely rewritten the system that Krita handles resources such as brush presets and gradation palettes. This causes a slower startup when running a resource, but because the information is cached, it can be used at a higher speed for subsequent executions, while reducing the working memory usage.
The resource system is not only comfortable, but also has improved convenience such as UI. Since brushes and palettes are tagged collectively, resources are freely managed, and arrangement is made easier for each folder, it is also possible to back up them using a USB memory or the like.
In addition, you can dither the scale for quick setting of swatches, use colors for each pattern, and the gradation editor has been improved to add an option to make gradations more compact and easier than before. The MyPaint brush engine used for brushes has also been changed to a completely new form. In Krita 5.0, the color blur engine has been optimized and various modes have been added to the texture brush.
Functions for creating animations as well as illustrations have changed significantly. The timeline has been redesigned to enable intuitive operation due to high visual clarity, and detailed operability and convenience improvements have been implemented, such as importing clone frames, which are highly demanded by animators, as animations for tracking, etc. do.
As a new update for creating animations, we've also added a storyboard docker that can be used to split video cuts or plan animated picture sequels. With Docker, you can add comments or descriptions to the scene, and you can print and share it as a PDF, etc. It goes without saying that the tools and UI, which had many user requests and complaints, were also updated. The official version of Krita 5.0, which solves the problems that occurred in the beta, is scheduled for September 2021. Related information can be found here.