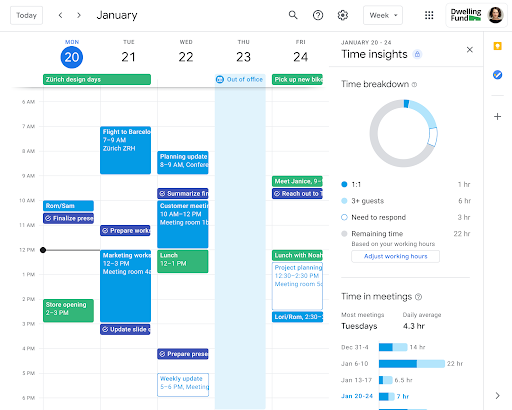 On August 30 (local time), Google announced Time Insights for Google Workspace users, which allows users to see how much time they are spending in meetings on their Google Calendar.
Google Insight summarizes meetings registered in Google Calendar, and you can view details such as the ratio of meetings to working hours and whether meetings are 1:1 or 3 or more people. In addition, it is possible to visualize the days and times of the most meetings. In addition, you can check the other party who is meeting from time to time.
You'll see this information only yourself, but if you manage someone else's calendar or have Manage Shared Access to that calendar, you'll also see those time insights. Also, Time Insight is only available on the web version of Google Calendar.
If you are meeting all the time and not making progress on your work, this can be useful information for revisiting the meeting time. Users will be able to use it in stages from September 6, and only use Google Workspace Business Standard, Business Plus, Enterprise Standard, Enterprise Plus, Education Plus, and Non-Profit. It cannot be used by general users and business starters mainly for individual entrepreneurs. Related information can be found here.