Ransomware is causing serious damage worldwide. In particular, in the United States, arrows are pouring not only at the government and large companies, but also at companies and organizations directly related to life, such as food producers and medical institutions, and the US government is strengthening its vigilance by raising the threat of ransomware equal to that of terrorism. According to a report analyzing these ransomware attacks targeting US schools and universities, it is reported that educational institutions cost 6.62 billion dollars in 2020 alone.
According to US cybersecurity firm Comparitech, ransomware attacks on schools and colleges from 2018 to June 2021 published by Comparitech show that educational institutions in the southern and western United States were severely damaged in 2020 alone. Ten ransomware attacks, or 13% of the total, were reported in places such as South Texas, the United States, which suffered the most. The next most affected was western California, USA, with 9 cases.
According to Comperitech, it is estimated that 1,740 schools and universities were targeted by ransomware attacks in 2020, and the number of affected educational institutions has increased by 39% since 2019. In addition, the number of students affected by ransomware reached 1,358,035, an increase of 67% from the previous year.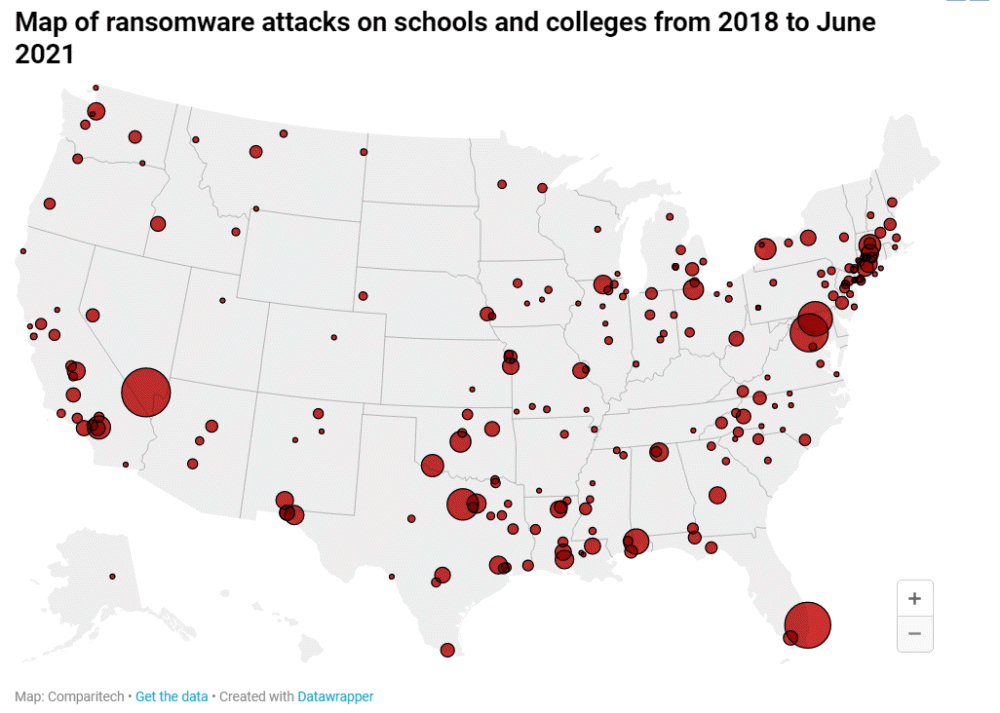 Ransomware damages range from $10,000 to $1 million, and in some cases the damage is minimized by taking frequent backups, but in some cases it takes several months to recover. In general, the average period of downtime for a school system that was attacked by ransomware was 7 days, and the average recovery period was 55.4 days.
It is also estimated that the ransomware attack hacker received at least $1.99,058 in ransom, and the direct and indirect damage to educational institutions reached $6.62 billion.
Comperitech summarized the results of the investigation and said that according to its investigation, there were 222 ransomware attacks from January 2018 to June 2021, and it was found that 3,880 schools and universities and 3.04 million students studying there were affected. Ransomware attacks often take a long time to do and become public, so that number is expected to rise over the next few months.
In addition, since more ransomware attacks are reported during Labor Day holidays in early September than usual, the FBI and cyber security infrastructure organizations are strongly wary of cyber attacks on public institutions and private companies, including schools. Related information can be found here.