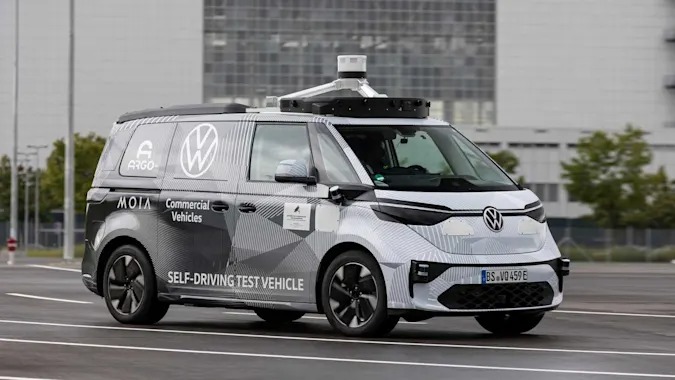 The ID.Buzz, a 21st century Volkswagen bus under development by Volkswagen, has not been on sale yet, although five years have passed since the concept was announced. However, recently, it has been adopted by Argo AI test vehicle, an autonomous driving system developer supported by Volkswagen and Ford, and starts running on the road ahead of the commercial version.
ID. Buzz is closer to the commercial version than the previous concept model, looking at the photos released during the IAA Mobility 2021 held in Munich, Germany. It can be seen that various sensors of the automatic driving system are placed on the roof. But from a diagonal angle, it retains a shape reminiscent of a Volkswagen bus and gives it a compact feel.
The autonomous driving technology developed by Argo AI combines image sensors, sensors familiar with autonomous driving systems such as lidar and radar, and processes them with a vehicle computer to monitor up to 400m around it to realize safe annotation.
According to ArgoAI, the system can navigate without relying on GPS and works without changing aspects of road infrastructure. Argo AI says that input from various sensors predicts pedestrians, bicycles, and other vehicle trends, and controls the engine, brake, and steering system safely and naturally.
So far, no company has perfected an autonomous driving system that can drive on public roads completely without driver assistance. Argo AI and Volkswagen are testing a fully autonomous commercial van for the next four years, and aim to commercialize it as a full-fledged autonomous shuttle bus and delivery vehicle in downtown Hamburg, Germany in 2025. Argo AI is also planning to build a 1,000-scale autonomous driving network together with Ford and Lyft of the US and test driving in urban areas such as Miami and Austin, US.
For reference, it is expected that the sales of general electric vehicle ID. Buzz, which are not self-driving, will start in 2022 in Europe and in 2023 in the United States.