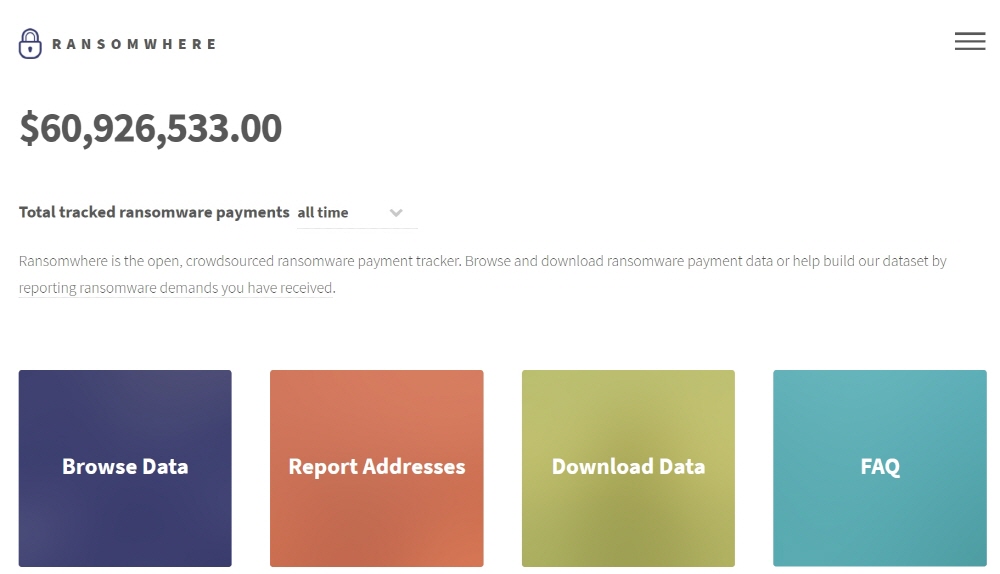 Cyber attacks using ransomware that forcefully restrict access to systems and demand ransom are increasing. In order to visualize the ransomware damage situation, Jack Cable, a veteran who has identified more than 350 vulnerabilities such as Google, Facebook, Uber, Yahoo, and the US Department of Defense, used Ransomwhere, a cloud source ransom payment site recording site. disclosed.
Ransomware is a site that organizes ransom payment information reported by users. If you look at the top of the first page, the total ransom paid so far for ransomware is $60,684,216.27 cumulative as of July 12, 2021. If you count the ransom alone this year, it will be $33.238,594.80 until July 12.
Browse ransomware data can be graphed and reported by users (Latest transactions), ransomware name (Family), virtual asset address where the ransom was deposited (Address), date, and bit You can check the coin deposit amount, transaction hash, etc. In addition, information released by the company (Latest reports) is also organized.
Because ransomware is a cloud source site based on users, the information provided is not 100% accurate, but when reporting, a screenshot of the ransom payment must be attached, and if it is determined to be a false report, it will be deleted. The developer said that transparency is important to evaluate the spread of ransomware and the effectiveness of countermeasures. Fortunately, Bitcoin has transparency, so payments can be tracked if you know the destination address, and by crowdsourcing the recipient of the ransomware, it provides a secure community and public open resources. stating that they want to Related information can be found here.