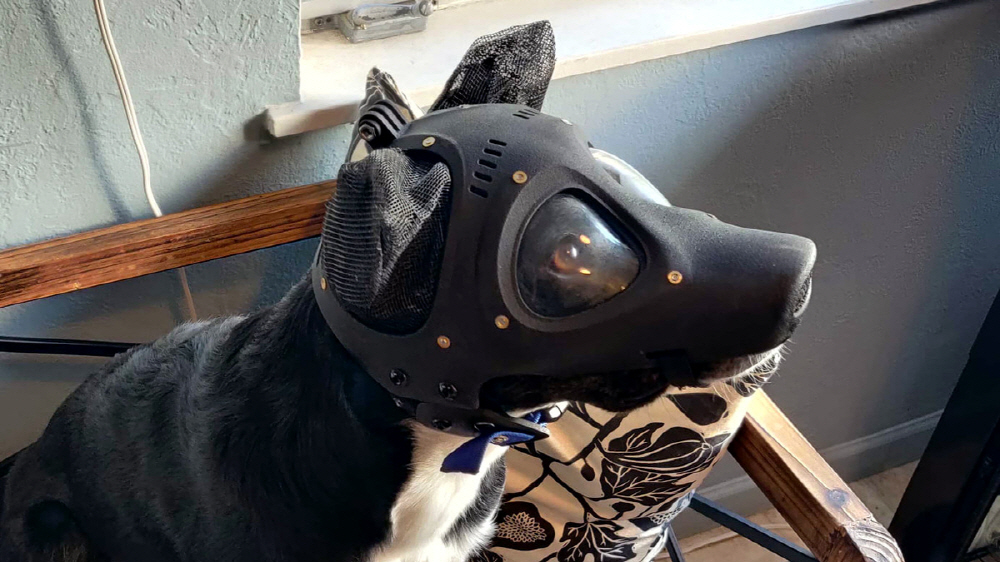 Among the wild grasses along the roadside, rice and plants with ripe ears have thorn-shaped protrusions called raspberry. Although it is almost harmless to humans, it is dangerous to dogs on a walk because it can be lodged in their legs, eyes and ears. Overseas, as a countermeasure against arrogance feared as a Foxtail, engineer Amos Dudley made a 3D printer for a protective mask suitable for his dog and disclosed the process.
Rags are quite dangerous for dogs. From summer to autumn, when the ash is ripe, you need to be careful when walking your dog. If the dog's eyes and ears get stuck, it is difficult to remove, and in some cases, there is a possibility that the infection may become severe by causing an infection at the place where the wart is lodged.
The engineer devised a helmet-shaped protective mask made of thin plastic that perfectly fits the dog's face. For design, the dog's head was first 3D scanned. I actually scanned it with ScandyPro, an app that allows 3D scanning on the iPhone. The mask designed based on the inspection results made a rough shape, smoothed the surface, and adjusted with the scan data to complete the basic design.
Then, holes were drilled in the eyes and ears of the mask to protect the eyes and ears from wrinkle while not obstructing the dog's sight or hearing. Transparent lens parts are installed on the eyes, and mesh protective parts are installed on the ears. The lenses are vacuum molded from thin acrylic.
In fact, when a mask is installed on a pet dog, it is said that other dogs were afraid of the dog wearing the mask because the dog is sensitive to the shape of the object. You can also attach a camera, such as a GoPro, to the helmet, so you can take a picture from the dog's point of view. Related information can be found here.