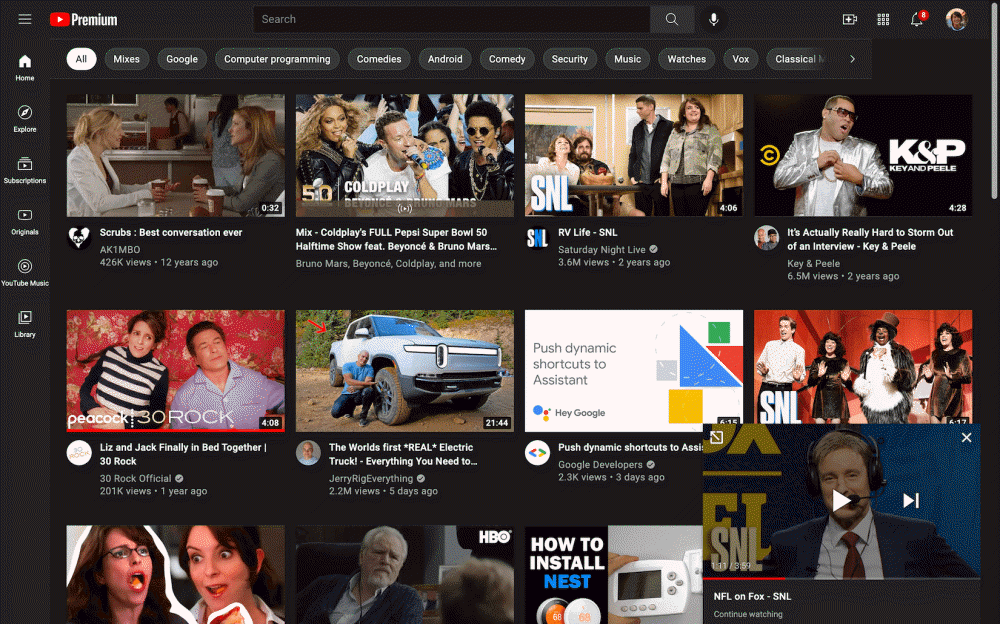 In the YouTube web version, there is an option to display a mini player, which allows you to play videos continuously in the mobile version for upgraded iOS and Android devices, and in the Android TV YouTube app.
If you open the web version after watching the video halfway through the mobile version of YouTube, the video you watched halfway through is automatically inserted through the mini player displayed in the lower right corner of the window. However, to use this feature, you need to log in to the same account on the web version and on other devices to sync your watch history. Also, the mobile version cannot be viewed in detail on other devices.
Until now, you could directly add them to your watch history or watch list, but just being able to reduce the effort of going to see or adding to the list one by one can provide convenience to people who have many opportunities to watch videos beyond their devices. This new feature will be rolled out to users sequentially. Related information can be found here.
Meanwhile, YouTube Music has announced that it will start background playback in Canada on November 3, 2021, allowing you to listen to music while using other apps or when the screen is turned off. Background listening will be provided free of charge.
YouTube Music allows you to listen to music based on videos released on YouTube, but with the free version, you had to keep the app running to listen to music without responding to background playback. However, YouTube Music announced on October 4, 2021 that it supports background playback even in the free version. Google Canada announced on Twitter that starting November 3, Canada will be the first country to support background playback.
Background playback is available in the free version, but YouTube Music Premium, a monthly paid service, includes features such as no ads, offline playback, and use of a paid Google Play Music plan in addition to background playback.
Background Play has yet to announce whether the service will be available outside of Canada. However, according to the report, as competitors' apps such as Spotify and Apple Music have a background play function even in the free version, the service will be deployed globally to enhance YouTube Music's competitiveness. Related information can be found here.