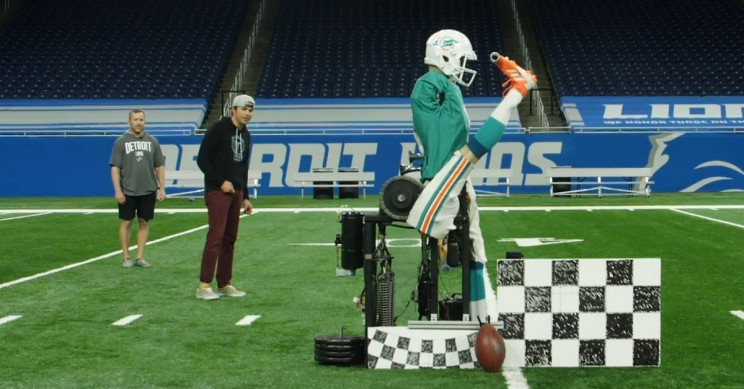 The 55th NFL Super Bowl was also held in the United States this year. To coincide with this, a developer named Mark Rober, who once worked for NASA, battled a robot with Matt Prater, who set the record for the longest field goal score of 64 yards in 2013.
The match is not a touchdown, but a field goal in which the ball is kicked between the enemy goalposts. The longest record was a legendary record that was not broken until Tom Dempsey scored 63 yards in 1970 and Matt Prater scored a goal from 64 yards in 2013. Since then, officially 64 yards have not been broken so far.
Matt Prater hit an official record-breaking 65 yards, but failed at 70 yards. Meanwhile, the robot succeeded in this and challenged 84 yards. However, the part that secures the gear shift was damaged and was blown into the air and failed.
In order to successfully score a field goal, leg speed is important when kicking first, and it is important to let the ball fly around 5.5cm high on the floor and at an angle of 40 degrees. This is a scientifically proven fact that requires control of various factors such as leg strength and running distance, but Matt Prater remembers this with his body.
The robot in the battle was named Ray Finkle. Ray Finkel is a fictional player name that appeared in the 1994 film Ace Ventura, starring Jim Carrey. He is also a key figure in the case of making a mistake in an important match that determines victory or defeat. The robot also wore the Miami Dolphins uniform, just like in the movie.
The robot is a project that started a year ago and has been updated four times to be able to kick more than 60 yards accurately. Matt Prater's leg kicks the ball at 77 km/h and the ball accelerates at 129 km/h. However, it is said that Ray Finkel kicked at 132 km/h and the ball accelerated to 193 km/h. Related information can be found here.