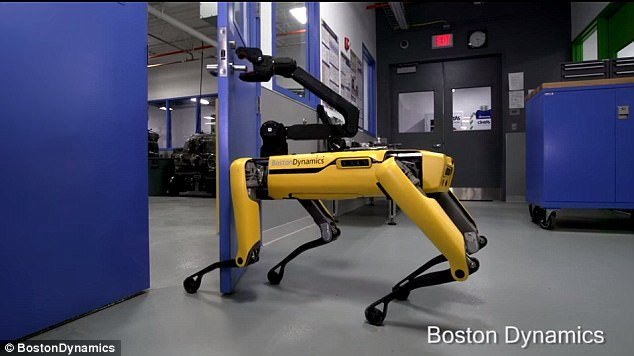 Boston Dynamics was originally based in Google, which is precisely the alphabet, but once again in June, Softbank announced its acquisition. Boston Dynamics has released a new robot video.
The robot that appears in the video is SpotMini, the company's four genealogical robot. Of course, the robot itself has already been released in 2017. Boston Dynamics has also released its fourth-generation robot, Bigdock. The spot is a compact, high-performance four-legged row robot that compresses it to a small size. Spots are small in size, so you can go out through narrow trees or in places with rugged rocks. You can go up stairs and ride without compromising balance. Spot Mini is a version that reduces it to a smaller size and adds a yellow appearance to the metal frame.
In the video, Spotmini walks down the hall and meets a closed door. Then another mini robot, like a robot arm, appears on the face and opens the door. Other robots that helped pass through the door effortlessly. This video shows a scene where two generations of four genealogical robots depend on each other and open the door and pass by. Through this, we intend to inform our robot technology naturally.
Boston Dynamics has also introduced Atlas, a two-legged robot. The robot also has a remarkable level of athletic ability, such as jumping between the pedestals or even performing colorful backbending.