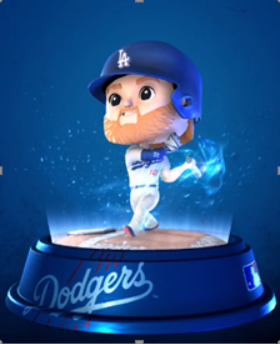 The Los Angeles Dodgers announced that they will distribute a player character token based on a cryptic currency at the end of September through an official blog on September 7 (local time).
Los Angeles Dodgers fans will receive a Dodgers player token that can be exchanged for Etherium in a game against the San Diego Padres on September 21. In the so-called Digital Bobblehead Night, a Los Angeles Dodgers fan can get tokens like a pitcher's catcher, third baseman Justin Turner, and Kenny Janson.
According to the Los Angeles Dodgers announcement, 40,000 fans will be presented with a card with their own code on the first-come-first-served basis. Which can be transmitted to the ether wallet through a unique code. It is said that a player character token can be received randomly, so that Casshovan Turner and Jansen code will be distributed at almost the same rate.
"It's the first cryptic gift in sports history," said Lon Rosen, CMO and vice president of Los Angeles Dodgers. "Digital goods and promotions will not only reflect a new era, but they will also pave the way for new markets through Dodgers fans." For more information, please click here .