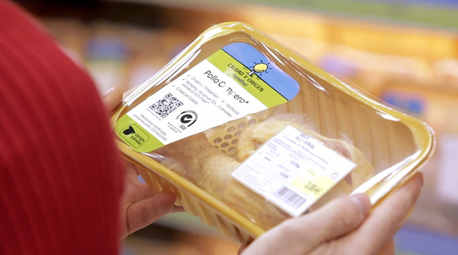 French distributor Carrefour said it is planning to introduce a hyper-leisure-based block-chain food tracking platform in its Spanish distribution network.
The IBM-developed food tracking solution is used to track the quality and origin of the naturally grown chicken brand (Calidady Origen) in the northern part of Garsha. In the Spanish distribution network, QR codes are printed on each package, and you can find detailed information on the date of birth, composition, and packing date of the chicken.
Carrefour says the block chain technology is important in the supply chain. To increase transparency and to allow customers to see the distribution process. In the near future, it will implement distributed food technology in all foods of this brand.
Carrefour has demonstrated its commitment to a decentralized solution at the beginning of this year by testing the French chain of poultry chase platforms. The company also participated in Food Trust, an IBM block chain-based food tracking network established in October 2016. After the test in August, big companies such as Nestle, Unilever and Wal-Mart participated.
Other companies with large supply chains can see the use of block chains to increase transparency, reduce costs, and reduce food supply. Wal-Mart is using block chains to track vegetables from the farm to the store, and Sweet Green, the fastest casual salad chain in the US, plans to track the salads the same way.
ABCD, one of the global Big 4s in agriculture, uses block chains and AI to automate the manual and time and labor costs of grain and oil seed trade processing. For more information, please click here .