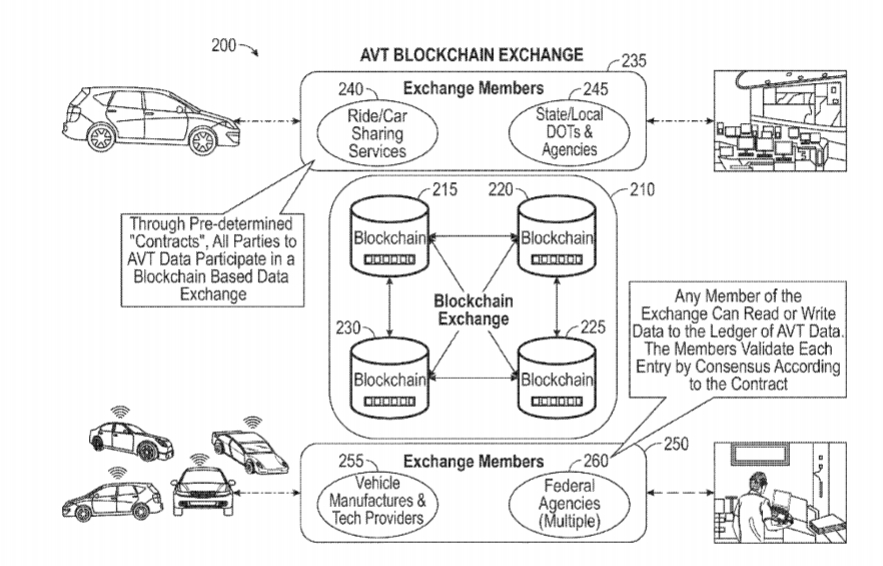 The US Patent and Trademark Office (US Patent and Trademark Office) filed a patent application pending November 29 (local time) and filed a patent application for a block chain on a data management solution that General Motors acquired through its autonomous vehicle.
GM filed a petition filed on May 25, 2017 with a block chain system. To enable safe and robust data delivery and interoperability among multiple autonomous vehicles, local authorities, and public utilities. Autonomous vehicles require time-based event data or advanced consistency, but the application documents emphasize that the block-chain system is suitable for semi-autonomous and non-self-propelled vehicles. Explain that a block chain can achieve a consensus on trust by distributing verifiable transactions across all transactions to those who participate in the interactions without infringing on personal information.
This patent proposes that block chains can be used to share information on various practical needs and legal records. It also includes the ability to search for destinations and availability of rechargeable fuel services, to judge the validity of licenses for cars operating with paid services including taxis, and to balance charges for tolls and parking, car wash, and other fees charged.
The paper added that it would be best to implement block-chain interactions to provide only autonomous vehicle occupants with safe and verified location information that is allowed and judged. It also explains that various types of information obtained from NHTSA using a block chain can be input or transmitted, and it can be spread in the form of a block chain ledger through online or cloud, in realizing the interaction with the highway traffic management system or autonomous vehicle driver.
Other data entered into this block chain system may include information on vehicle movement, driver behavior, compliance with traffic rules, driver capability information, and data on behavioral characteristics of autonomous vehicle users on the generated online block chain ledger have.
GM has been involved in an open block chain initiative, MOBI, of large-scale projects involving more than 30 companies including BMW, Ford, Renault, Bosch, Hyper Leisure, IBM and IOTA last summer. In the automotive industry and the block chain, IOTA and Volkswagen demonstrated their PoCs for autonomous vehicles last June. This proof-of-concept is based on the IOTA's object-oriented Internet architecture rather than the existing block chain. For more information, please click here .