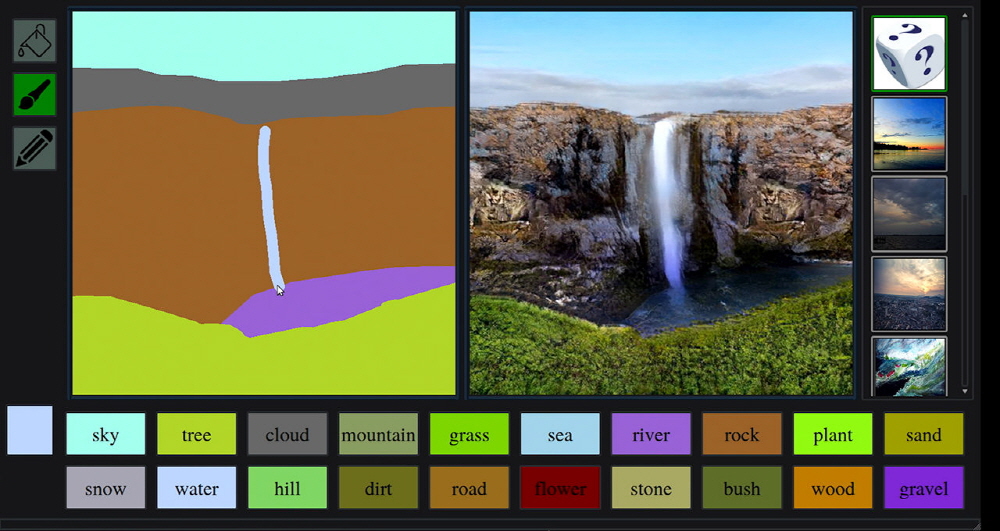 GauGAN is a stunning picture-drawing technology announced by NVIDIA. The technology, developed by NVIDIA Research, turns Microsoft paint and mouse-like rough illustrations into realistic landscape pictures in seconds. This interactive software uses deep learning with extensive learning resources. Gauguin can be used only by drawing objects and drawing lines.
You can easily change a picture that looks like a simple paintbrush with 20 buttons with sky, trees, clouds, mountains, etc. located at the bottom of the screen. Even if you only draw the shape of the object, the neural network shapes and shapes the shape. If it is water, it automatically adjusts to surrounding elements such as the shaking and reflection of the sleeping water, of course.
This technology can be helpful to architects, designers, autonomous vehicles, and people who develop robots using virtual worlds. Neural networks learned from vast amounts of actual image data, such as color, texture, and shadows, all resolve.
NVIDIA has also released a service called AI Playground. The service includes three technologies: Image InPainting, Artistic Style Transfer, and Photorealistic Image Synthesis.
Image-painting is a technique that edits unnecessary content and replaces it with real-world content created by the computer. Artistic style transfer transforms photos into the same style as Gogh, and photorealistic image Cynthus is a new deep-run-based system that creates graphic images and virtual environments using conditionally hostile production networks. For more information, please click here .