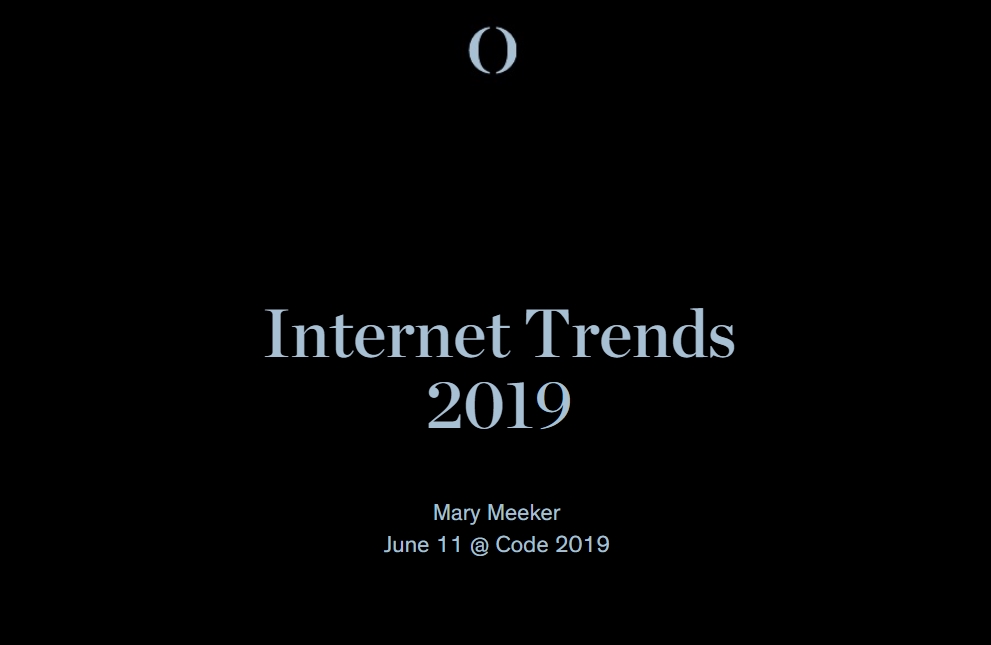 Internet Trends 2019 was released. The time spent by Internet users on mobile beyond the majority of the world's population is the first time to watch TV, and the situation with the gaming and advertising industries is changing dramatically.
Internet Trends 2019, which was released this time, consists of 333 slides. In addition to overall trends for Internet users around the world, there are global trends in e-commerce sales, Internet advertising trends, Internet usage, technology growth and game industry trends, concerns about Internet usage, sales points for personal information, Digitalization, and the Internet situation in China.
First of all, if you look at the whole Internet, the internet is getting bigger, but growth is showing a tendency to slow down. In 2018, the number of Internet users is 3.8 billion, accounting for 51% of the world's population. The number of Internet users exceeded the first half of 2017 by 3.6 billion, or 49% of the world's population. On the other hand, as the number of Internet users increases, the number of people who start using the Internet decreases year by year.
Globally smartphone shipments declined 4% from 2017. Here again, we can see the trend of the Internet passing through the period of growth. However, in 2009, the Internet population was 24% ten years ago, and this ratio doubled in 2018.
Nonetheless, it is Asia Pacific that is being addressed as an area where more new Internet users are coming. Although the United States has faced its limitations and its absolute population is small, most people in Africa and the Middle East still do not use the Internet.
Internet users are ranked in many countries, followed by China and India, the United States, Indonesia and Brazil. India and China have many Internet users, but non-Internet users are also many.
Internet companies' market cap ranks are among the TOP10, with Microsoft, Amazon, Apple, Alphabet, Facebook, Alibaba, Tencent, Netflix, Adobe and PayPal. Eight of these are US companies and two are Chinese companies. By top 30, there are 18 companies in the US and 7 in China.
If we look at the changes in the top global Internet leaders' earnings from 2016, the overall profitability is slowing down to the peak of the first quarter of 2018.
In the United States, 60% of technology investment companies ranked above the market cap are Americans of first- or second-generation immigrants. Amazon's Jeff Bezos is the second generation of Cuba, Apple Steve Jobs is the second generation of Syria, and Google Sergey Brin is the first generation in Russia.
What about e-commerce market? Overall growth is slowing, but it has risen slightly from the fourth quarter of 2018 to the first quarter of this year.
For advertising, spending on mobile advertising is growing at an overwhelming rate. Internet ad spending shows little change in desktop ad spending from 2009 to 2018, but mobile ad spending has increased significantly. On the other hand, if you look at the US-based online advertising platform revenues, it tends to decline from the fourth quarter of 2018 to the first quarter of this year, and the growth rate also tends to decrease.
Google and Facebook are two strong Internet advertising platforms, but Twitter, Amazon, Snap Chat, and Pinterest are also growing. 62% of all display ad purchases are programmatic ads, and this trend is expected to continue to increase.
Also, the time that American adults spend on digital media during the day is getting longer each year. Most are used as mobile devices. Time spent on mobile devices is 3.6 hours per day, desktop and laptop is 2 hours, and other devices are 0.7 hours.
Also, the time spent on mobile for the first time in 2018 has exceeded the time spent on TV, and it is said that it spends 226 minutes a day on mobile devices. Time to Watch TV Digital video viewing times have increased five times over five years ago.
Next, technology development such as high-speed Wi-Fi and high-quality camera is being promoted for image communication, and images on the Internet are becoming more important. Once Twitter is a text-based medium, more than half of the impressions now come from media, including images and videos. The number of image shots and instances of image sharing are also exploding.
Next is the game industry. Worldwide, interactive game users increased by 6% over the previous year to 2.4 billion. Games like Fort Knight are closer to social media than to games for someone. Also, the number of people who watch games is increasing. Twitter, a live streaming platform, has seen explosive growth in streaming time, active distributors, and the number of simultaneous online viewers by 2017-2018.
The percentage of adults who are almost always online is 21% in 2015, but it has risen to 26% in 2018. In a survey asking whether social media is good or bad for health, positive evaluation was made in terms of self-expression or self-awareness, but it also turned out to be a big concern about negative aspects such as sleep quality.
The number of US adults who want to restrict their use of smartphones was 47% in 2017 but jumped to 63% in 2019. Parents are also increasingly limiting their children's Internet use. Due to this trend, social media daily usage time is steadily slowing down from 2018 to 2019.
At the same time, concerns about privacy continue to be high. Personal information is increasingly becoming a business point or the object of regulation.
The following is the digitization of health care. In the United States, health spending is increasing at the government and consumer levels. This trend has led to the digitization of health care. Consumers' acceptance of digital medical tools has increased considerably. In 2018, online health information, online diagnostics, mobile tracking, wearables, and remote medical services through real-time imaging are all in place. Consumers are also increasingly sharing health-related data with technology companies. Google, Amazon, Microsoft and Apple are the ones that share the most.
Finally, China Internet. The biggest single Internet market is China. However, the number of Chinese Internet users is increasing, but the growth rate is slowing down as the global trend continues. However, the use of cellular data via the Internet increased by 189% in 2018 from 2017. In addition, platform growth using short video is remarkable. For more information, please click here .
Internet Trends 2019 by on Scribd