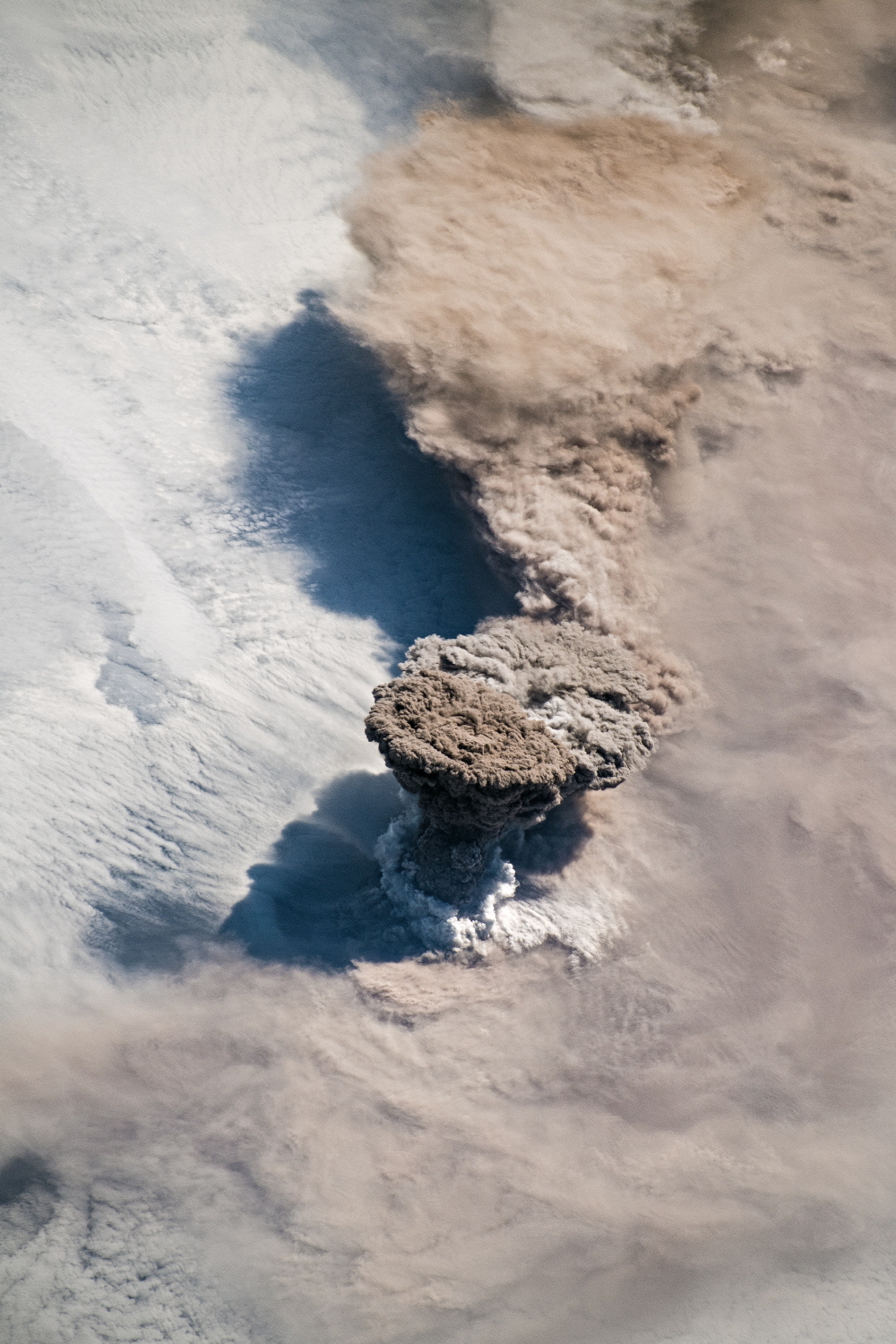 Raikoke, an uninhabited volcanic island located on the Russian Kuril Islands, is a 551-meter volcano. Here, on June 22, 90 years after the last eruption, eruptions and volcanoes exploded. NASA astronauts and satellites took photographs right after the explosion, and volcanologists are keenly aware of the effects of large-scale eruptions.
The last eruption here was in 1924. It was erupted in 1778 before. In 1924, it also affected the depth of the crater and the entire flood of the island, and in 1778 the eruption was so large that one-third of the top was destroyed. It was dormant for more than 90 years, but Lychee erupted on June 22, erupting volcanic gas and volcanic ash from the 700-meter-wide crater, and its smoke reached 13,000 meters above sea level. Thanks to this, the eruption columns were observable in space. International Space Station astronauts and observing satellites include these in photographs.
When you look at the photos taken by astronauts, you can see that the smoke spreads straight up from the crater, spreading horizontally like an umbrella from the sky. As the altitude rises, the air density drops and the smoke spreads sideways and forms an umbrella, reaching a neutral state where smoke and air density match.
It is pointed out that the visible steam at the bottom of the smoke is likely to be water vapor generated by the condensation of ambient air drawn by the smoke or the water vapor generated by the surrounding seawater heated by the magma. Terra, a NASA satellite, also photographed after eruption using MODIS, a visible and infrared region radiometer. The image taken by Terra shows that the volcanic ash after the eruption is swept away by strong winds and extends from the west toward the east toward the Pacific Ocean. The smoke continued to be observed, as sharp rocks and lava contained a piece of stout glass that could have a significant impact on the aircraft flying around. According to the Earth Observation Satellite CALIPSO data, smoke can reach up to 13 km in height.
Experts point out that smoke is likely to reach the stratosphere through data such as rising concentrations of sulfur dioxide around the two days after eruption. Smoke reaching the stratosphere more than smoke in the troposphere remains in the air for a long time, which has a stronger impact on aircraft and climate. Volcano scholars will continue to observe trends and effects of smoke in the future. For more information, please click here .