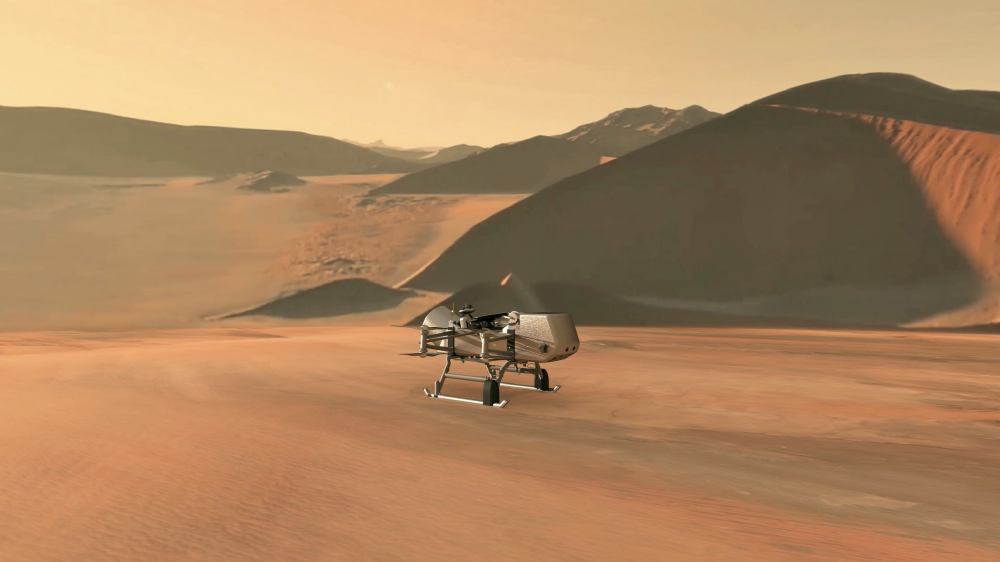 NASA has officially announced Dragonfly, a plan to send a rover targeting Saturn's largest satellite, Titan.
Saturn's moon Titan is the second largest moon in the solar system after Jupiter's moon Ganymede. It has a radius of 1.48 times and a mass of 1.8 times that of the moon and even has a darker atmosphere. The mission that NASA announced this time, Dragonfly, is to send the probe Dragonfly with the name of the mission to Titan. The Dragonfly probe is a 3m long unmanned aerial vehicle with 8 rotors capable of vertical takeoff and landing. NASA is releasing an animation video that assumes that Dragonfly is actually exploring the top of Titan.
Dragonfly falls over Titan using a parachute. When the parachute is removed, it switches to flight mode and flies to the landing site. The first landing was a dune zone named Shangri-La located on the equator of Titan. After landing, an investigation is conducted to collect samples and fly back to the new exploration site. After landing, they plan to explore Titan in this way for two and a half years.
The Titan was created in 2005 by the Huygens probe mounted on the probe Cassini. Lakes and seas made of liquid methane and ethane, as well as sandy deserts from the adhering of carbides to the surface of rain and ice have been reported. In addition, it is revealed that water and organic matter exist underground, and it is also pointed out that primitive life forms may have been born.
Dragonfly will also explore craters while collecting various climate and geological samples of Titan. This is a crater that was once formed when a meteorite collided with Titan, and it is believed that carbon, nitrogen, and the energy released at the time of the collision were all the materials necessary for the birth of life. The launch of Dragonfly is expected in 2026, and the arrival of Titan is expected in 2034. Related information can be found here .