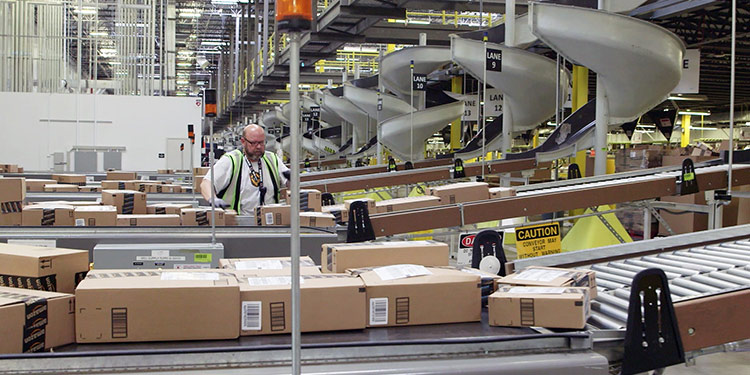 It is said that Amazon is testing a game-like structure to make everyday simple tasks more rewarding in warehouses.
According to reports, first, the game program was experimentally introduced in one warehouse in 2017, and now it has been introduced in five warehouses. Warehouse employees competed with each other to get the job done. The game names are Mission Racer, Peak in Space, Castle Crafter, and Dragon Duel. You can challenge your own records or play against other employees. It is literally a game.
The workstation that controls the robot's division and movement of items is composed of a game screen, and points can be obtained according to the game result. Swagbucks, a cryptocurrency obtained through warehouse games, can also be exchanged for Amazon's own products.
Dave Clark, SVP of operations for Amazon, says he is focusing on gamification to make things more enjoyable. We have single player or multiplayer games, but the purpose is how to make simple and boring things fun and entertaining.
If you're curious, Fast Company has an actual screenshot of one of the Amazon warehouse games I reported on today @washingtonpost https://t.co/hB4huzD0hN https://t.co/Yht1ERtXjA pic.twitter.com/LWO2zaiorx

— Greg Bensinger (@GregBensinger) May 21, 2019
https://platform.twitter.com/widgets.js
For reference, it is said that the game structure, such as playing matches or earning points, is intended to enjoy the work that is the goal, and to increase productivity, not to encourage competition among employees. The introduction of the game program test has continued for several years, but it is the background that the delivery of Amazon Prime members in the US has been shortened from 2 days to 1 day. Whether productivity is your primary goal or not, it will attract attention when productivity rises as a result of the introduction of the game. Amazon employees say that the robot usually picks up items from the shelf at around 400 per hour, but with the game, it could pick up nearly 500 items.
Amazon's gamification performance is expected to be revealed little by little depending on how much the test program is expanded in the future. Related information can be found here .