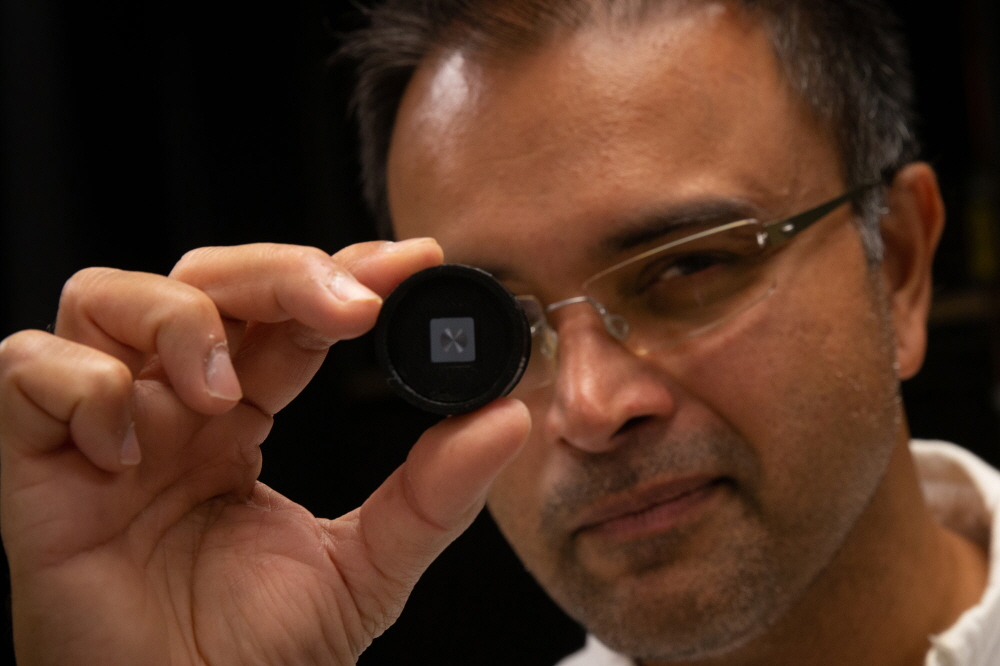 The latest smartphones, including the iPhone 11 that appeared in September, all have high-performance cameras. But most of the time, it looks like a so-called shudder camera with a camera protruding from the back. In the midst of this, a research team at the University of Utah in the United States developed an ultra-thin lens that weighs one hundredth and one-thousandths of the thickness of a conventional smartphone camera lens. Accordingly, it is expected that it will be possible to make a much smaller camera than before.
Multilevel Diffractive Lenses (MDL) developed by the University of Utah research team. It's 10 micrometers thick, and it's only about a 20th of a hair. Also, like a normal lens, both sides are flat without a curved surface.
Conventional lenses with curved surfaces are thicker and heavier as a result, as the light must be bent at a larger angle to increase resolution. In contrast, the newly developed MDL lens exhibits sufficient performance even if it is thin because many microstructures individually refract light and use it for the sensor. To this end, the research team developed an algorithm to calculate the new material resin and microstructure pattern.
For the MDL structure, the research team explains that the microstructure itself is not a lens, but because it combines into microstructures and collectively acts as a lens, a camera using a lens boasts high resolution. By overlapping two MDL sheets, optical zoom is also possible and heat can be detected with an infrared camera. It can be used for devices that are much lighter and have longer uptime than ever. Therefore, as well as smartphone cameras, drone cameras equipped with a hint device are expected to be used to respond to forest fires or to search for victims in the event of a distress accident caused by a natural disaster.
The research team says that because the lens uses plastic resin, it has the potential to mass-produce inexpensively. It is explained that high performance can be achieved by using a high refractive index material with no light loss like silicon. It emphasizes the possibility of ultra-thin lenses that can be used in various cameras. Related information can be found here .