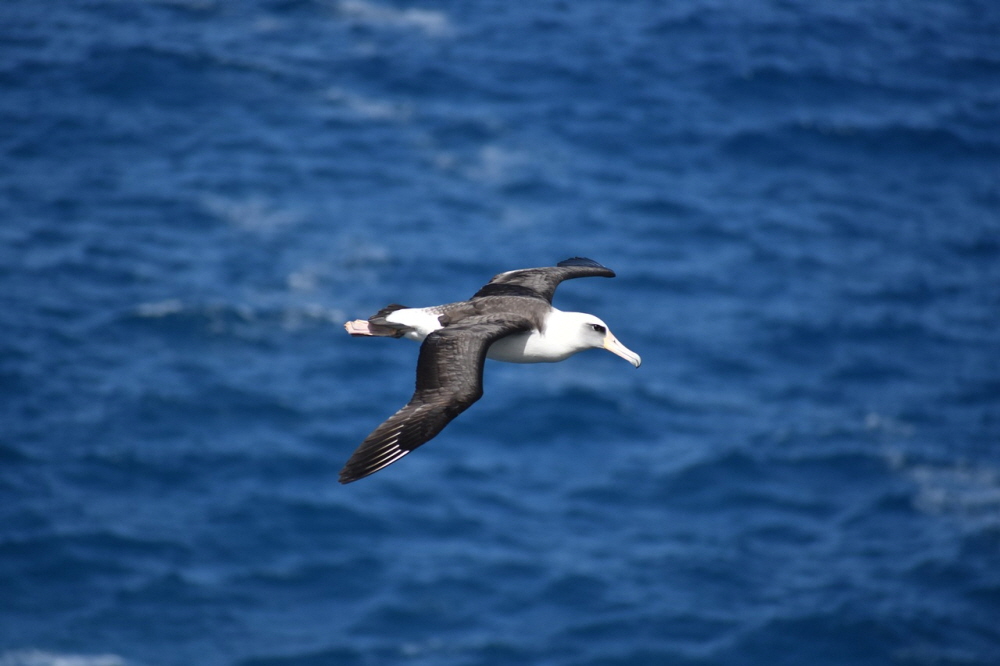 In recent scientific research, attempts to use wild animal habits and behaviors are increasing. In fact, unique research is being conducted, such as studying the marine heat transport system from the antenna installed on the seal's head. A team from the French National Science Research Center is trying to find illegal fishing boats that have not been legally licensed by mounting a GPS tracker on a short-tailed albatrus (Phoebastria albatrus).
Illegal fishing is conducted in many waters around the world, and it is also pointed out that a fifth of the fish on the market are fish caught by illegal fishing. Vessels that operate without a permit deceive the amount of fish caught, such as underreporting the volume of transport. In addition, the illegal fishing market is worth 20 to 30 billion dollars annually around the world, penalizing fishermen and the state who engage in legitimate fishing.
Meanwhile, monitoring the entire ocean covering more than 70% of the Earth's surface is quite difficult. It is not easy for land law enforcement to effectively crack down on illegal fishing. Amanda Gladix, a fishing expert at Oregon State University, points out that crackdown resources and infrastructure are scarce in oceans far from individual national waters. For this reason, a team of researchers at the French National Science Research Center devised a method of using short-tailed albatross flying above the ocean to crack down on illegal fishing.
Samantha Patrick, a marine biologist at the University of Liverpool, who co-authored the paper, points out that short-tailed albatross is using a fishing gear installed outside a fishing boat as a buffet. Short-tailed Albatross can spot fishing boats at a distance of 36 km and flies towards the fishing boat.
Taking advantage of this behavior of short-tailed albatross, the research team convened a GPS tracker that tracks the location of the short-tailed albatross, an antenna that detects ship radar, and a solar panel that supplies power to other antenna equipment that transmits data to the land research team. Developed.
Although it is mandatory to install an automatic ship identification system AIS (Automatic Identification System) on general ships, it is difficult for ships that engage in illegal fishing to release AIS and find the route of navigation by land law enforcement agencies. However, since the AIS is canceled and the radar signal is emitted by illegal fishing boats to avoid collisions with other ships, the equipment mounted on the short-tailed Albatross approaches a few kilometers from the ship and transmits a weak radar signal that does not reach the land. It is detectable.
In order to test the system for detecting illegal fishing vessels by short-tailed albatross, the research team conducted an experiment with a GPS tracker on the short-tailed albatross. The research team installed a GPS tracker, a type of short-tailed albatross, in the nest of L'île Amsterdam, Îles Crozet, and les îles Kerguelen in the South Indian Ocean around the Antarctic Ocean. Arrived. The researchers taped or glued a 57g GPS tracker to 169 short-tailed albatross.
In the six months from November 2018, the short-tailed Albatross has traveled over 4,700 km 2 . When the short-tailed Albatross approaches within 5 km of this ship, its coordinates are recorded, and an online database research team that can search the ship's AIS data visited and found the ship and matched it. The research team found that although the tendency of short-tailed albatross to approach fishing boats varies according to age, the older ones approach the fishing boats more often than the younger ones. The research team points out that there is a possibility that the attractiveness of fishing boats may be learned with age.
During the investigation, 353 fishing boats were found, of which 28% were said to have released AIS. Of the fishing boats found, 30% of the fishing vessels discovered were likely to be fishing illegally. The research team says they did not think that the proportion of ships engaged in illegal fishing was so high. Vessels that have released AIS are particularly high in the high seas, and in beta economic zones, whether or not to release AIS varies from country to country, and it is likely to reflect whether or not countries regularly monitor illegal fishing vessels. The information on illegal fishing vessels detected by the short-tailed albatross is based on radar and location information, and individual vessels cannot be identified. In fact, whether or not to crack down on illegal fishing vessels is still left to law enforcement agencies, but at least it will help to map places where there is a lot of illegal fishing.
A surveillance system using short-tailed albatross is an inexpensive option compared to methods such as airplane patrol or satellite survey. On the other hand, if short-tailed albatross is recognized as being used for fishing surveillance, there is a possibility that illegal fishing groups will come up with radical measures, such as catching short-tailed albatross. Therefore, it is revealed that it is necessary to be cautious in introducing a surveillance system using short-tailed albatross. Related information can be found here .