Baseus Galio is a multi-port USB AC adapter that supports a total output of 120W.
Gallio's port configuration is a 2C1A specification with 2 USB Type C and 1 Type A to maximize the total output size. Two Type-C devices can also supply 60W to both sides. In addition, the main body is the size of a credit card and weighs 216g. In addition, it is compatible with USB PD 3.0 and supports fast charging of smartphones by makers other than PPS. You can choose the color of the body from black and white.
The biggest feature of this product is also its print size. The maximum output of the USB AC adapter so far was basically 100W, which is the upper limit of the USB PD specification. However, 100W is only one port number. It doesn't have to be tied to 100W if the AC adapter allows it. However, it may be said that such a large output is needed, and there is a disadvantage that the main body becomes larger in accordance with the output, so up to now 100W has been the standard.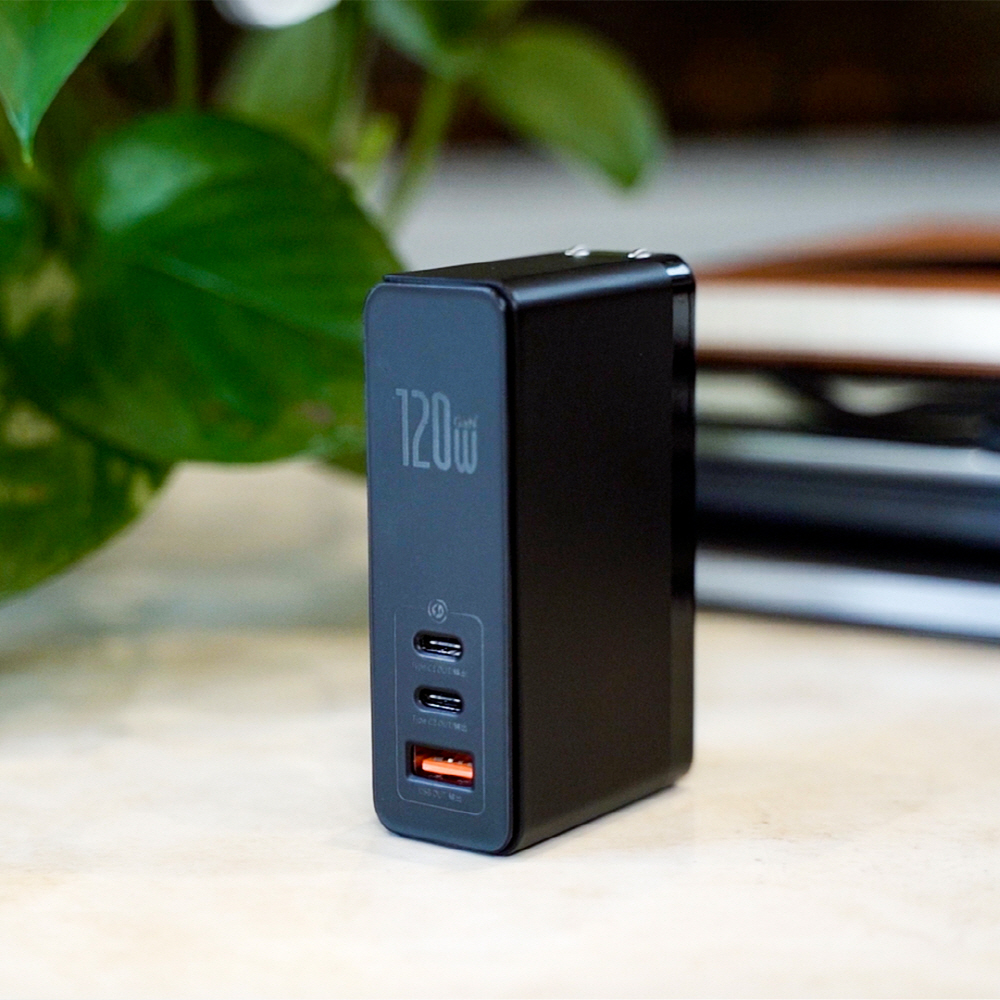 In the meantime, Gallio is implementing 120W output in a body the size of a credit card. Even with a MacBook Pro, iPad Pro, and a smartphone that supports USB PD, it is about 60W, 30W, and 30W, so it has enough power to sufficiently charge all devices. Also, if you use two laptops while traveling, you can supply 60W to each side.
The technical feature is that there are many corresponding fast charging specifications. USB Type C supports not only USB PD 3.0 but also next-generation optional PPS. 3.3~20V/5A output is also possible. In addition, it supports a wide range of fast charging specifications put forward by smartphone manufacturers. Qualcomm Quick Charger 4+, 3, 2, etc., as well as Huawei SCP and FCP, Galaxy AFC, and MediaTek PE+ are supported.
The second characteristic is that it adopts silicon carbide SiC in addition to gallium nitride GaN as a power semiconductor material. GaN is a familiar material for modern AC adapters, but SiC is also a material suitable for power semiconductors. The basic feature is that it has high conversion efficiency like GaN. In addition, it has excellent properties even in high temperature environments. In other words, it is a material suitable for high-density AC adapters, which are disadvantageous in terms of cooling.
In this product, GaN and SiC were used in the right place. It is claimed that the miniaturization of cooling parts by reducing heat generation has made the body smaller than the competitor 100W product, while reducing heat generation when operating. The actual size is 94.8×54.8×29.6mm, and the weight is 216g. The AC plug is foldable so it doesn't get in the way when moving.
The company emphasizes that this product is 15% smaller than the genuine 96W AC adapter. This product was also raised through crowdfunding site Kickstarter. More information on the product can be found here .