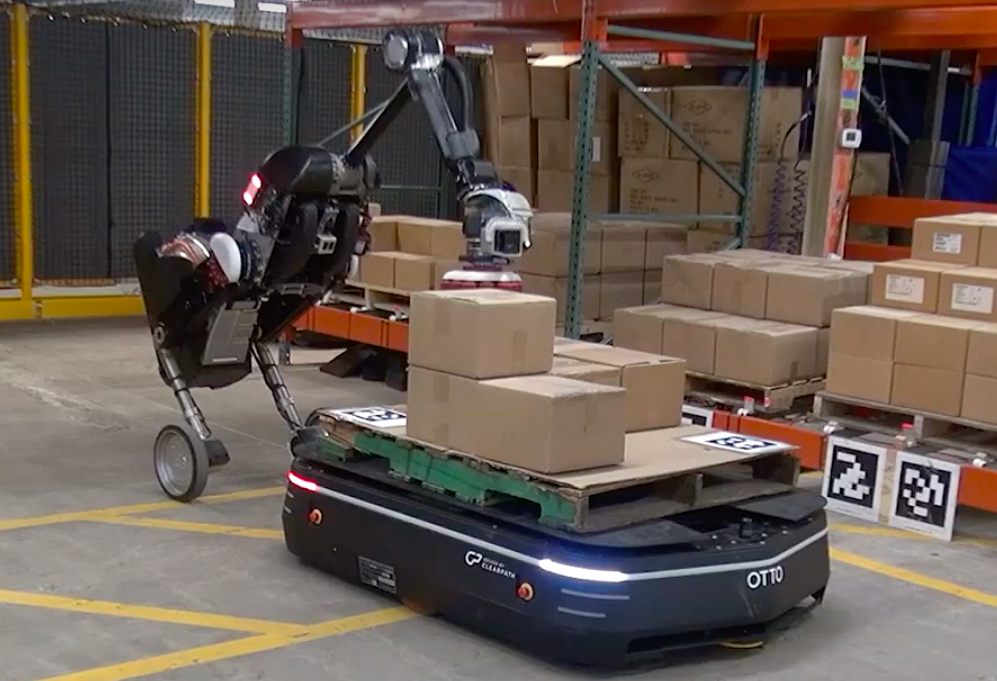 Otto Motors, a developer of logistics technology such as autonomous vehicles for transportation, announced the development of a system that can completely unmanned work in the warehouse in partnership with Boston Dynamics, which is well known for its four-legged robot, Spot, and a proof of concept demonstration. Was released as a video.
As a first step toward fully automating work in the warehouse, we started a proof of concept demonstration of the work of carrying luggage with only a real robot. In the center of the large warehouse, there is a shelf with an identification code attached, and similarly, self-driving vehicles (OTTO SDVs) attached with the code run. The Auto SDVs stop in front of the shelf, and Boston Dynamics' logistics robot Handle navigates in front of the shelf and then lifts the box. The steering wheel can be moved smoothly with two wheels instead of legs, but it is reliably balanced and does not turn over even with heavy loads.
The handle is adjusted so that the attached identification code does not obscure it, and the luggage is stacked on the Auto SDVs. When the steering wheel lifts all the luggage, the SDVs drive. Boston Dynamics has unveiled a proof-of-concept demonstration of a group of heterogeneous robots that build orders for distribution centers to provide a flexible solution for automating operations in warehouses. It said that it will also optimize for partnerships.
Automotors also said that the partnership with high-tech robotics companies such as Boston Dynamics is exciting, and that the application of the technology will allow the development of applications for completely new fields. Related information can be found here .