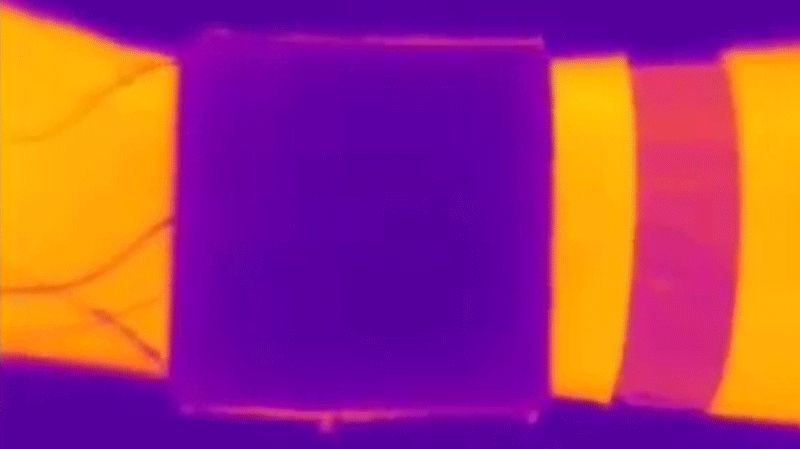 A research team at the University of California, San Diego, has developed a wearable thermal camouflage device that automatically changes the temperature according to the ambient temperature. Using this function, it is said that it will not be detected by thermography used in noctovision.
The research team revealed that the device changes the temperature in response to the ambient temperature immediately. The picture was taken through a FLIR thermal imager that can measure temperature from a distance with an infrared camera.
In the FLIR image that can represent color temperature, it can be seen that this device is at the same temperature as the surrounding space because the color matches the space other than the arm. If the ambient temperature is gradually increased, the color of the device changes according to the change record. You can see that the temperature of the device changes according to the surroundings.
This material is said to be able to cope within 1 minute at temperatures from 10 to 38 degrees Celsius. This device is a compact and easy temperature-controllable cooling device released by the research team in May of last year, and is interlocked with a special material with a melting point of 30 degrees. This device allows easy temperature control by adding multiple semiconductor materials between stretchable polymer sheets.
Special material melts and liquefies when it reaches 30 degrees, so that it has the same ability as an insulation material, but below 30 degrees, it gradually solidifies and becomes an insulating layer. Of course, according to the research team, the device developed this time is still in the proof of concept. At this stage, the research team aims to make a jacket with this function, but the test jacket weighs 2kg, thickness 5mm, and continuous driving time is only 1 hour. The research team is trying to reduce the weight from one-half to one-third.
The research team revealed that the existing advanced thermal camouflage technology does not work only at a preset temperature, and does not work when the ambient temperature is higher or lower than the set temperature, and this could be a breakthrough for the device that changes the temperature to suit the environment. Related information can be found here .