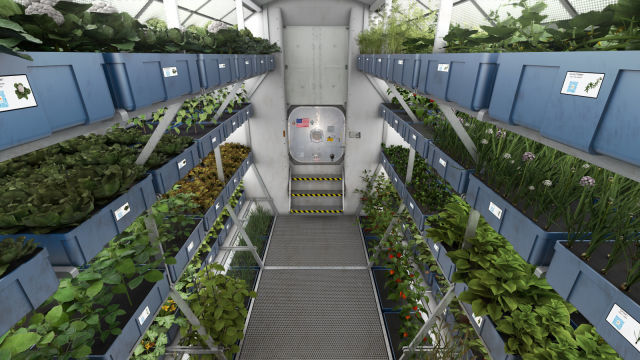 The International Space Station ISS, orbiting 400 km above the ground, has a lettuce field and a flower field. However, it has been confirmed that the nutritional value of the red romaine grown here is the same as that grown on the ground.
The research team created temperature, relative humidity, and carbon dioxide concentration in the terrestrial environment in the same way as the ISS, and actually cultivated lettuce and compared the nutritional value with space lettuce. At ISS, lettuce hydroponic spray cultivation was carried out from 2014 to 2016. The lettuce harvested three times went into the stomachs of some resident astronauts, and the rest were loaded onto a spacecraft returning to the ground and returned to NASA.
Researchers at the NASA Kennedy Space Center investigated the microbiological and nutritional quality of lettuce seeds grown at ISS. It is said that lettuce from ISS had more microorganisms attached to it than those grown on the ground. But this was expected. The team explains that astronauts have their own microbes and that some can only be found on the ISS.
On the other hand, in terms of the nutritional aspects of lettuce, it is said that harvesting from ISS did not show any difference from that grown on the ground. Regarding this, the reaction is somewhat surprising as it was expected to be at different nutrient levels when grown at ISS.
In the future, vegetables will play an important role in crew meals to live an earth-independent lifestyle. It is necessary for plants to grow properly at different levels of gravity, sunlight, and radiation than the ground. Plants also convert carbon dioxide into oxygen, so they can play an important role in life support systems for long stays on the Moon, Mars, and space facilities.
It is said that all lettuces made by cultivating lettuce seeds grown at ISS do not have harmful bacteria such as E. coli or Salmonella. Currently, ISS is cultivating using seeds such as cabbage. In the next few years, vegetables with relatively small fruits such as tomatoes and bell peppers will be added. The research team said that it is important to understand how various varieties are affected by the ecosystem, and they hope that soon astronauts will be able to select and grow their favorite crops. Related information can be found here.