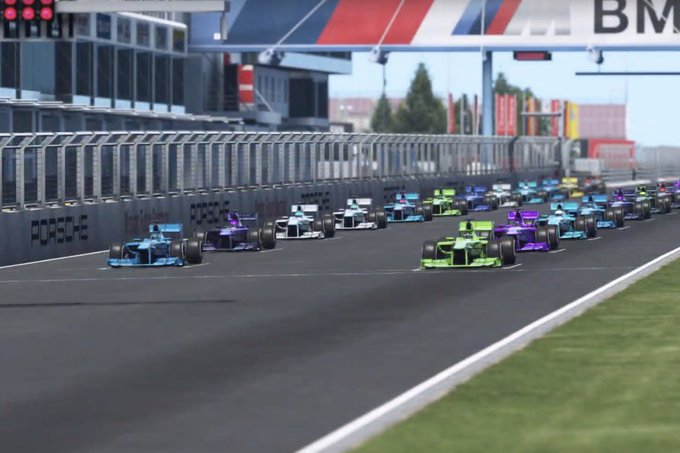 Due to the recent Corona 19 impact, both the Australian GP, the opening game of F1 2020, which is the highest peak of motor sports, and the opening game of the popular US series Indica, were stopped. As the event was canceled shortly before the start of the driving session, all of the audience gathered at the venue were discouraged, and it suddenly became a holiday for the players.
That's why I planned a virtual competition using racing simulators and games. Professional racers gathered and fought a spectacular racing battle that is rarely seen among esports players. Both virtual races succeeded in gaining numerous professional racers and esports racers participation in the short period of 2 days after the announcement.
First, the Race All-Star Esports Battle held by Torque Esports was attended by famous athletes such as F1 Red Bull, as well as luxurious members that motor sports fans would know such as the 2019 Indie 500 Racing Champion. Also, in the event (Not the AUS GP) hosted by Veloce Esports, a brilliant active professional driver, including a player from the F1 McLaren team, participated.
In these competitions, the world's best e-sports racers faced real racers and directed the composition. What is noteworthy is that the number of live esports broadcast viewers was very high. According to Stream Hatchet, who analyzed esports viewing, The Race All-Star Esports Battle had 90% more viewership than all live esports events held that day. It was more than the number of people watching F1 on Sky TV in England. Not the AUS GP (Not the AUS GP) also attracted attention, including 170,000 live viewers and over 2 million total viewers, ranking #1 and #3 on Twitter trends in Germany and the UK because of its good live performance.
The reason why the city hall also showed good results can be attributed to the influx of passionate enthusiasts who expected this as the opening match of the global car racing competition of F1 and Indycar was stopped. In fact, in the broadcast comment held on YouTube, there were a lot of opinions that I saw esports for the first time and it was very interesting. This is a part that allows you to expect effects such as securing new fans in esports.
Corona 19 is driving all sporting events to a halt. However, it may be said that it could be said that it is a very groundbreaking event that the attempt to substitute informally accordingly and the success of eSports made in a short preparation time were successful. Related information can be found here .