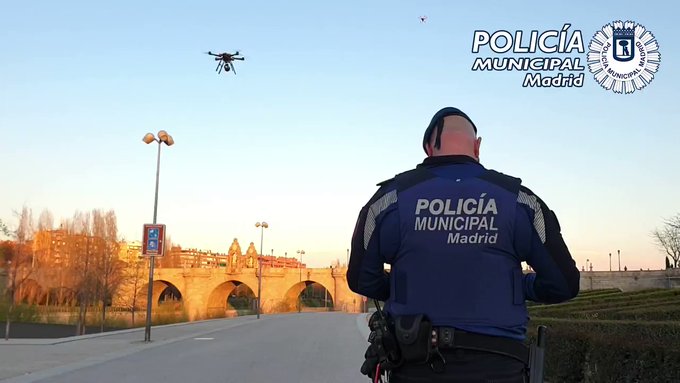 As a measure to prevent the spread of Corona 19, Spain's Prime Minister Pedro Sanchez declared a state of emergency and at the same time announced the blockade of the entire country on March 14 (local time). To inform those who are already on the move, police authorities in the capital Madrid said they used a large drone to alert people on the streets to wait at home.
City officials unveiled a drone guide through official Twitter, saying they will use all the means available to ensure citizens' safety. The agency that administers Spanish air navigation (ENAIRE) also announced on Twitter that it is working with the Madrid police and the Air Force. According to this, the purpose is to keep people informed of waiting at home.
According to Prime Minister Sanchez, the Spanish blockade is scheduled for 15 days at this stage. It is said to be a measure to protect 47 million people from Corona 19, prevent the spread, and strengthen the national medical system.
Spain's decision was the second time a blockade was announced in Europe, a few days after it announced a blockade in Italy, which has the second most infected people after China. In France, retail, food and entertainment facilities were suspended, and in Germany and Portugal, some border closures were announced. In Switzerland, a decision was made to close all stores, excluding supermarkets, restaurants and pharmacies, in some regions.
According to the Spanish Ministry of Health and others, the number of confirmed cases in Spain is 7,753 and the death toll is 288. Almost half took place in the neighborhood of the capital Madrid. According to the World Health Organization WHO, the number of confirmed cases in Italy was 21,157 and the death toll reached 1,441.
Prior to the announcement of the blockade in Spain, it is said that public places such as parks have been urging people to comply with health authorities' guidelines. It is also said that those who do not comply with quarantine measures may be sent to jail in addition to a fine of up to 600,000 euros.