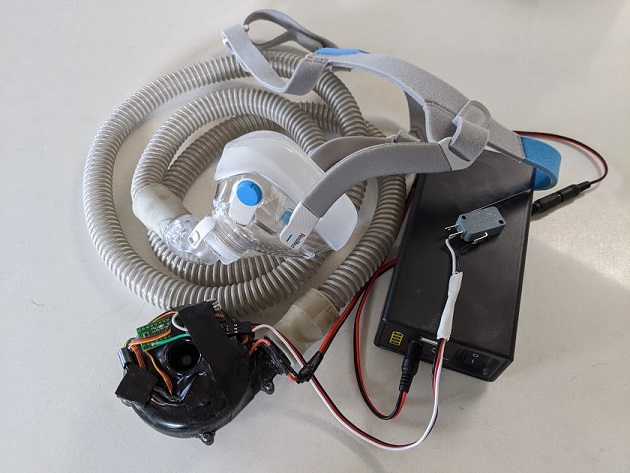 When corona 19 becomes severe, it can lead to bronchitis or pneumonia and respiratory failure. As the number of ventilators used in the medical field is expected to be insufficient due to the increase in COVID-19 patients, various ventilator designs are open sourced.
As the demand for ventilators rises rapidly due to the spread of Corona 19 infection, the shortage of ventilators is becoming a problem in various places. At a meeting held on March 16 (local time), US President Trump appealed to the Governor to avoid relying on the US government to secure medical facilities, including respirators, asking for all equipment such as masks and respirators on his own.
Due to the shortage of ventilators, ventilators designed and developed as open source have been released. Github open source released the ventilator will use to modify the CPAP device used in the treatment of sleep apnea, a microcomputer board, the Arduino Nano (Arduino Nano). The sculpture that you put in your mouth when using it can be printed with a 3D printer, and it has a ventilation device that bypasses the medical mask filter.
Julian Botta, a Johns Hopkins University student, published a simple open-source ventilator specification in a Google document . This specification summarizes how the ventilator used for Corona 19 is designed by dividing the ventilator into three hardware, electronic circuits and software. The basic structure is the same as the ventilator controlled by Arduino Nano, but a sensor and feedback to warn of malfunction or oxygen flow error are added.
In addition, GitLab has released open source ventilator design data called OpenLung. This is a device using a manual artificial respiration device called a bag valve mask, and has the advantage of being able to mass-produce because it has a simple structure. Of course, these devices have not been approved by the US Food and Drug Administration. The project description states that trained individuals must install appropriate equipment and receive professional treatment. It is difficult to obtain FDA approval for such an open source ventilator, and even as an alternative, it is difficult to use a ventilator that has not been approved by the FDA in hospitals.
Guo Cavalcanti, who created an open source medical facility development project (Open Source Ventilator) centered on Facebook, gave up on ventilator design for reasons that regulatory authorities and hospitals could not obtain approval. It says that the focus should be on the development of facilities necessary for public health. This place produces hand sanitizers in cooperation with processing companies.
Nevertheless, he said that the move to develop medical devices by open source will be useful to those who do not have access to high-quality medical care depending on geographic conditions or the level of the medical field. He warned that the spread of infection will continue.