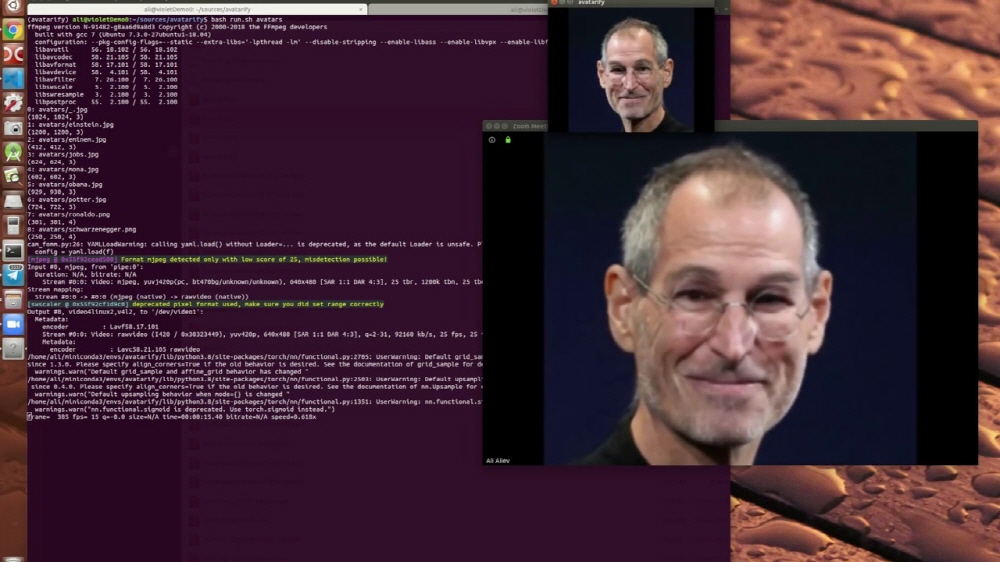 Avatarify is an open source deepfake that uses a webcam to illuminate one's face when using online video conferencing tools such as Zoom or Skype while working remotely from home, but uses an algorithm to change the face to another person. It's a tool.
Programmer Ali Aliev, who developed Avatarify. If you start zooming through the webcam and Avatar Refi at the same time, you can import a picture of your face and the picture of your face will move according to the movement of your face. The imported face becomes an avatar and moves according to the facial expression recognized by the webcam. In the demo, Einstein, Steve Jobs, Mona Lisa, and President Obama are also demonstrating how they speak with avatars.
He used Avatarify to change his face to Tesla CEO Elon Musk and upload a video of actually participating in an online video conference with a colleague. He is nervous about Elon Musk's accidentally attending another meeting.
Avatarify was built using the image animation motion model open source code released in March by a research team at the University of Trento, Italy. Originally, the algorithm uses a dataset composed of target images that automatically generate facial expressions, and pre-educates them, but Avatar Reify can automatically generate facial expressions in real time without requiring any prior training.
According to the developer, Avatarify can be used in Zoom, Skype, Slack, etc., but installation requires programming knowledge and PC specifications. Also, of course, the only thing that can be changed with Avatar Refi is the face and the voice remains as yours. However, voice deepfake technology is already emerging, and Zum also has a problem of leaking personal accounts. Some point out that a combination of Avatarify and Voice Deepfake technology may exploit the stolen account. Related information can be found here .